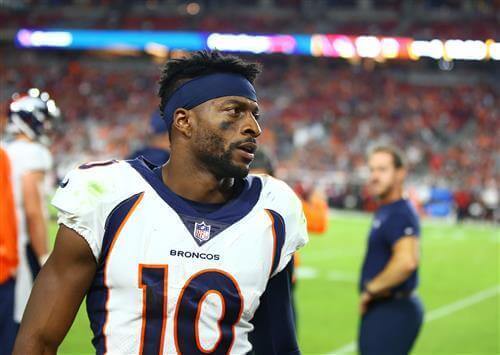 Denver Broncos wide receiver Emmanuel Sanders has previously opened up about the drama that surrounded former teammates, Ben Roethlisberger and Antonio Brown, with the Pittsburgh Steelers.
Sanders spent four seasons in Pittsburgh after the team selected him in the third round of the 2010 NFL Draft. All four of those seasons were spent with Big Ben and Brown in Pittsburgh.
In talking about his contract negotiations with Steelers general manger Kevin Colbert back in 2014, Sanders had a rather interesting story to share.
"THE STEELERS OFFERED MY THREE-YEARS, $9 MILLION WITH $1 MILLION GUARANTEED," SANDERS SAID, VIA 104.3 THE FAN. "I WALKED INTO COLBERT'S OFFICE AND SAID I DON'T WANT TO TAKE THAT DEAL. HE SAID, 'WHO DO YOU THINK YOU ARE, ANTONIO BROWN?' I WANTED TO SAY (EXPLETIVE) BUT I GOT UP AND TOLD HIM I'LL NEVER FORGET THAT."