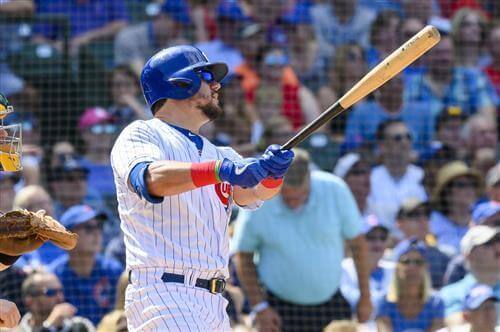 The Major League Baseball offseason will be here before anyone knows it. And because this winter's crop of free agents looks relatively weak, trades could be all the rage.
We've speculated on the most likely player on each team to be traded during the 2019-2020 offseason. We certainly stretched the limits of the term "likely" to accommodate some guys, yet we didn't choose our targets randomly.
We were looking for established players with movable contracts or expendable talent, as well as prospects and fringe major leaguers who might have more value to their clubs as trade chips than as building blocks. Rumors about which players have been or might be available were helpful in some cases.
We'll go division-by-division, starting in the American League East and ending in the National League West.
American League East
Baltimore Orioles: INF Jonathan Villar
The Baltimore Orioles have plenty of players they could trade for the sake of advancing their rebuild, but they'll need to consider which players are the right mix of valuable and expendable.
More so than John Means, Trey Mancini, Hanser Alberto, Renato Nunez and Anthony Santander—who are under Baltimore's control for the long haul—Jonathan Villar fits the bill.
Villar enjoyed a brief rebirth when the O's acquired him from the Milwaukee Brewers in 2018, and it's continued into 2019 to the tune of an .808 OPS and 20 home runs. Between that, his versatile defense and his looming free agency after 2020, he could draw a crowd on the trade market.
Boston Red Sox: RF Mookie Betts
Would the Boston Red Sox really trade Mookie Betts just a year after he captured the AL MVP and helped lead the team to a World Series championship?
They just might. According to Jon Paul Morosi of Fox Sports, there's speculation around MLB that the Red Sox will at least listen to offers for Betts this winter. He is a free agent after 2020, after all, and he's thus far stonewalled Boston's efforts to extend him.
Besides, the Red Sox will need a huge talent influx if they lose J.D. Martinez and Rick Porcello to free agency and if Chris Sale ultimately needs Tommy John surgery. Even despite his limited team control, a trade of Betts could make such an influx happen.
New York Yankees: OF Clint Frazier
In the wake of Gio Urshela's rise at third base, the New York Yankees could field interest in Miguel Andujar this winter. They might also try to get out from under Giancarlo Stanton's remaining contract.
However, the Yankees would be selling low in both cases. Andujar is coming off shoulder surgery. Because of his own injury issues, Stanton has played in only nine games and hit one homer all year.
In lieu of them, keep an eye on Clint Frazier. His own value is compromised by his inconsistent offense and shoddy defense. The former top prospect nonetheless offers plenty of upside and club control through 2023, so the Yankees might sell another team on him as a worthwhile upside play.
Tampa Bay Rays: OF Tommy Pham
In light of his frequent injuries and diminishing offensive returns, the Tampa Bay Rays might try to move Kevin Kiermaier before his $53.5 million extension gets into the big money.
Yet it might be easier for the Rays to find a taker for Tommy Pham, even though his .890 OPS in 158 games as a Ray highlights him as a guy who should be kept under any circumstance.
With his age-32 season coming up in 2020, the Rays might endeavor to get something for Pham before he ages out of his prime. They'd also be saving themselves some money, as Pham is making $4.1 million with two more trips through arbitration still to go.
Toronto Blue Jays: RHP Ken Giles
With Marcus Stroman, Aaron Sanchez and Kevin Pillar already traded and Justin Smoak nearing free agency, Ken Giles will soon be the last of the Toronto Blue Jays' once-mighty collection of trade chips.
Granted, Giles' trade value isn't as high as it was earlier in 2019. He got off to a tremendous start, but he's been relatively mortal since running into recurring elbow issues in June.
All the same, not many closers have as much sheer electricity as Giles has in his right arm. And since they'd be risking further elbow trouble by keeping him, the Blue Jays might be willing to market him as an affordable one-year rental for 2020.
American League Central
Chicago White Sox: RHP Alex Colome
The Chicago White Sox might have it in mind to contend next season, but actually doing so isn't such a sure thing that they can neglect good opportunities to trade from their major league roster.
Alex Colome will present such an opportunity this winter. The veteran closer rebuilt some lost value with a strong finish to 2018 with the Seattle Mariners, and he's kept building with a 2.34 ERA through his 50 appearances with the White Sox.
Because the White Sox control Colome through 2020, they might not feel compelled to move him. But if a team with a more immediate need for a closer makes a good offer, they'd be wise to take it.
Cleveland Indians: SS Francisco Lindor
In the same boat as Betts this winter will be Francisco Lindor.
Because Lindor is an MVP-caliber superstar whose club control runs through 2021, the Cleveland Indians should have no business trading him. Nevertheless, ESPN's Buster Olney (via Aaron Goldhammer of ESPN Cleveland) expects the Indians will indeed be willing to talk about him.
Lindor is already making $10.9 million, so the Indians will have a financial incentive to move him. Beyond that, there's the reality that players with more trade value than Lindor are few and far between.
Detroit Tigers: LHP Matthew Boyd
The Detroit Tigers' farm system is getting there, but it still needs to get a lot better before the club can start looking forward to the end of its rebuild.
Hence why Matthew Boyd is likely to be back on the block this winter. The Tigers need as many prospects as they can get. Cashing in on his breakout as a top strikeout artist as well as his club control through 2022 would be the best way for them to go about getting some.
Of course, the Tigers must first hope that Boyd recovers from the tailspin that's led to a 5.84 ERA since June 2.
Kansas City Royals: RHP Ian Kennedy
Speaking of rebuilding AL Central clubs that need prospects, the Kansas City Royals are right there with the Tigers and (to a lesser extent) the White Sox.
To this end, the Royals should give serious thought to selling high on guys like Whit Merrifield, Jorge Soler and Hunter Dozier. But since each is controlled through at least 2021, the Royals may opt for moving shorter-term assets.
For instance, Ian Kennedy. He was a sunk cost as a starter just last year. But after finding his stride as a reliever with a 3.68 ERA and 4.3 strikeout-to-walk ratio, his $16.5 million salary for 2020 isn't altogether immovable anymore.
Minnesota Twins: SS Royce Lewis
The Indians' cost-cutting maneuvers during 2018-2019 presented an opening for the Minnesota Twins. They took it and have run with it this year, so 2020 may be their chance to double-down on their AL Central superiority.
This could be as simple as spending big bucks in free agency, but the Twins might have an easier time enticing trade sellers with their prospect depth. Specifically, in wunderkind shortstop Royce Lewis.
The 20-year-old is MLB.com's No. 7 prospect by way of his exceptional upside. But since he's had a rough season and is blocked by Jorge Polanco at the major league level, the Twins may be better off sacrificing Lewis in a blockbuster trade.
American League West
Houston Astros: 3B Abraham Toro
If they fail to re-sign ace right-hander Gerrit Cole, the Houston Astros will have a No. 1-type starter at the top of their offseason shopping list.
Unfortunately for them, pickings will be slim on the free-agent market after Cole. The Astros also cleaned out their farm system in a flurry of deals at the trade deadline. They still have uber-outfielder Kyle Tucker, but they didn't even want to deal him for Noah Syndergaard, according to Ken Rosenthal of The Athletic.
Instead, perhaps they'll try to interest sellers in young third baseman Abraham Toro, who's teased star potential with a .938 OPS and 17 homers in the minors this season. If he stays with Houston, he'll stay blocked by Alex Bregman.
Los Angeles Angels: INF/OF Taylor Ward
The Los Angeles Angels are more likely to be active on the free-agent market than on the trade market this winter.
While they should have plenty of money to spend, their farm system is short on shiny trade chips outside of toolsy outfielder Jo Adell. And since he's just about ready to line up alongside Mike Trout, the odds of him actually being traded are basically nil.
The Angels are more likely to trade depth pieces that they don't actually need, such as Taylor Ward. He's become a man without a true position since the Angels drafted him as a catcher in 2015, but they might drum up interest in his impressive .322/.433/.565 career slash line at Triple-A.
Oakland Athletics: RHP Blake Treinen
There's always a question of which salaries the Oakland Athletics might try to get out of paying. To this end, they could be more than willing to field offers for Blake Treinen this winter.
Following a dominant 2018 season that was marked by a 0.78 ERA and 38 saves, Treinen got a raise from $2.2 million to $6.4 million via arbitration. Despite a significant regression to a 4.53 ERA this season, he should get another raise in his final time through arbitration next year.
Rather than go to the extreme of non-tendering Treinen, the A's might put him out there and see if anyone is willing to pay a premium for his upside.
Seattle Mariners: OF Mitch Haniger
If anyone can be counted on to do some trading this offseason, it's Mariners general manager Jerry Dipoto. The guy loves his trades.
In response to what will presumably be a last-place finish, Dipoto is more likely to be in a selling mood than a buying mood this winter. Interested parties could find him willing to deal notables such as Domingo Santana, Daniel Vogelbach, Omar Narvaez and even Mitch Haniger.
Haniger, who was an All-Star in 2018, has been difficult to pry loose in the past, but Jon Heyman of MLB Network tweeted that "folks expect" him to be on the block this offseason. A related story may be that he's due for his first of three trips through arbitration.
Texas Rangers: RF Nomar Mazara
Even if they don't finish this season above the .500 mark, the Texas Rangers have already succeeded in proving that their 95-loss 2018 season didn't doom them to a prolonged rebuild.
Still, the Rangers can't trade from what isn't even that good of a farm system. They may just as soon swap out extraneous pieces of their major league roster.
For example, Nomar Mazara. He was an elite prospect when the Rangers called him up in 2016, but he's never quite found his footing as a star. The Rangers might seek to market him as a change-of-scenery candidate with two more years of club control left.