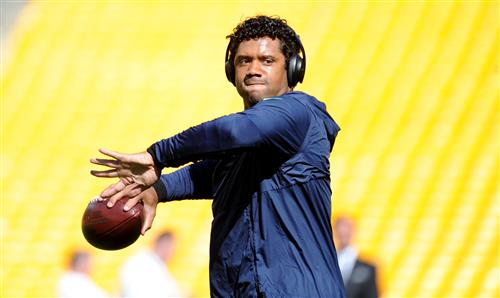 We already know the backstory. Russell Wilson trade rumors have been the name of the game in the Pacific Northwest since the Seattle Seahawks' quarterback made it public record that he's not happy with the organization.
At least initially, Wilson's uneasiness had to do with a lack of protection from Seattle's offensive line and and his inability to be involved in roster-building to an extent.
Things have since been on the decline between the Super Bowl-winning quarterback and his organization. The Seahawks are not happy Wilson took to the public with his grievances.
In turn, Wilson's representatives have actually given Seattle's brass a list of teams he'd be willing to waive his no-trade clause for. There's a ton of smoke to this fire. That's magnified even further following this report from veteran NFL Media insider Mike Silver.
Things really do seem to be boiling over in Seattle right now. It's also pretty hard to fathom considering Wilson turned this dormant franchise into a legitimate Super Bowl contender the minute he became a Day 1 starter as a rookie back in 2012. Prior to Wilson's arrival in Seattle, the organization had earned seven playoff appearances in 23 seasons. He's led them to the playoffs eight times in nine years.
The broader issue here seems to be head coach Pete Carroll's unchecked control of the organization following the passing of owner Paul Allen 2018. He's pretty much running things as CEO of the organization. Wilson is not happy with it.
Does this mean a Russell Wilson trade will happen this offseason? Initially, it seemed to be beyond ridiculous to believe that the Seahawks would pull the trigger. That's obviously no longer the case.