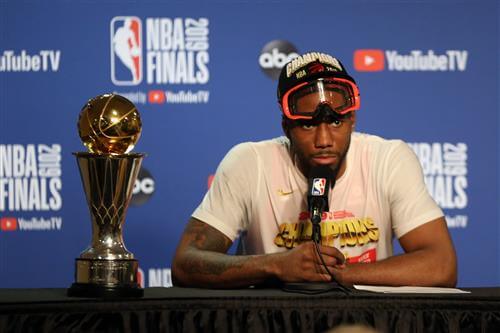 The way Kawhi Leonard phrased an answer during an interview with ESPN's Scott Van Pelt after winning the NBA championship on Thursday night has some wondering whether he tipped his hand about his free agency plans. Specifically, some think the way he called Toronto "them" instead of "us" means he is likely headed elsewhere.
About an hour after winning the game, Leonard joined Van Pelt on ESPN for an interview.
"What's the most satisfying thing for you, to have brought what you brought to this group who had never done it, and then to get there. For you personally, what's the most satisfying, Kawhi?" Van Pelt asked.
"Just making history here, bringing the organization their first championship. It's just something that the Raptors could build on, that we all could build on. That was my goal. I wanted to get them to the Finals their first year. That was all our goal. Obviously once we got here was the next step to win it all,"