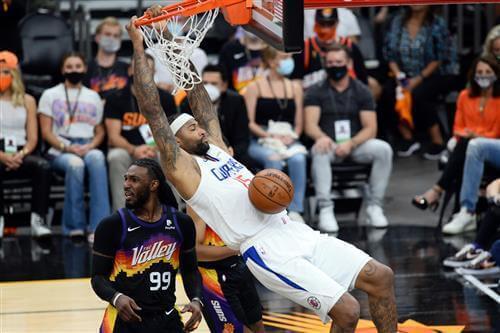 A year after turning heads around the NBA, the Knicks head into the 2021-22 campaign with a cast of characters that includes familiar faces and promising newcomers.
Julius Randle, RJ Barrett and Derrick Rose are back to lead New York, which earned the fourth seed in the Eastern Conference last season in what was its first playoff berth since 2013. And new guards Kemba Walker and Evan Fournier give the Knicks a significant boost as they look to run it back.
Still, New York's roster is not flawless. And in a recent article for Bleacher Report wherein he addressed every NBA's team biggest problem, NBA analyst Greg Swartz pinpointed acquiring a center who can shoot as New York's most pressing concern.
Swartz also offered a solution: to "keep DeMarcus Cousins on speed dial."
The Knicks have the luxury of bringing back two quality defensive centers in Mitchell Robinson and Nerlens Noel. The 23-year-old Robinson is entering his fourth year in the league after being selected in the second round of the 2018 draft and averaging 2.1 blocks over his first 158 NBA games. Noel, 27, is a seven-year NBA veteran who averaged 2.2 blocks for the Knicks last season.
Still, while Swartz noted each center's potential to be elite defensively, he also brought up their limits on the offensive end. Robinson averaged only 8.3 points in 27.5 minutes per game last season, and Noel averaged only 5.1 points in 24.2 minutes per game.