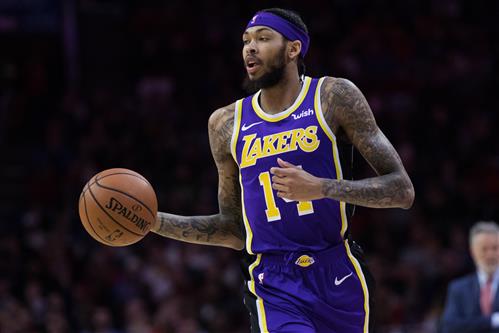 In trying, somewhat desperately, to acquire Anthony Davis at the trade deadline, the Lakers offered the Pelicans pretty much every halfway valuable asset on their roster this side of LeBron James. The trade never happened, but the core of the package the Lakers offered -- Brandon Ingram, Lonzo Ball, Josh Hart, and Kyle Kuzma, plus draft picks, perhaps the No. 4 overall -- could still be in play should New Orleans reconsider its stance.
According to ESPN's Dave McMenamin, a lot of people inside of New Orleans' organization wouldn't have to reconsider anything. They were high on the Lakers' offer from the start. Speaking on The Sedano Show, here's what's McMenamin had to say:
I spoke to several people within the Pelicans' organization in the past several months that have a really high opinion of Brandon Ingram, and beyond just Brandon Ingram, have a really high opinion of the trade package that was on the table that was ultimately rejected.
Of course, when the Pelicans rejected this offer Dell Demps was still in charge. Now Demps is out, and it's newly hired executive vice president David Griffin and general manager Trajan Langdon who are calling the shots. To that extent, Griffin's comments -- before he had been hired by New Orleans and was still doing television work -- on Brandon Ingram are suddenly very interesting. Again on The Sedano Show, here's what Griffin the television analyst had to say about Ingram.