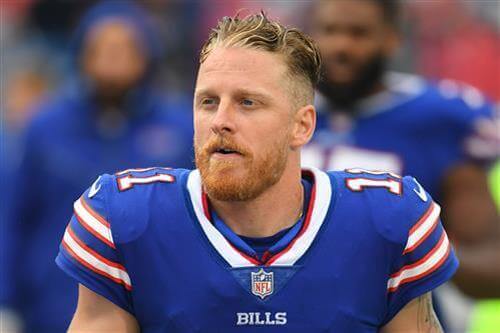 One of the top wide receivers for the Buffalo Bills last season could be headed to an early exit from the team, an insider speculates.
The Bills came into the current season with relatively few holes after having spent the offseason re-signing key players and addressing some needs — namely pass-rushing — through the draft. But heading into this year's trade deadline, one report indicates that the team could be ready to ship out a former top target for Josh Allen who has seen his production drop this season.
After making a career-best 11 catches against the Washington Football Team on Sept. 26, Cole Beasley has seen a dramatic drop in production. He has made just three catches on four targets over the last two weeks, totaling 21 yards. Beasley has not caught a touchdown this year, seeing other pass-catchers surpass him as preferred targets for Allen. That includes newcomer Emmanuel Sanders, who has 19 catches for 322 yards and four touchdowns. Tight end Dawson Knox is also having a breakout season, making 18 catches for 261 yards and five touchdowns this year.
As Nick Fierro of SI.com's Bills Central speculated, Beasley could be redundant and potentially expendable for the Bills at the trade deadline.
"But if the Bills continue to win big without Beasley involved, it shouldn't come as a shock if he's dealt by the NFL's trade deadline on Nov. 2," he wrote.