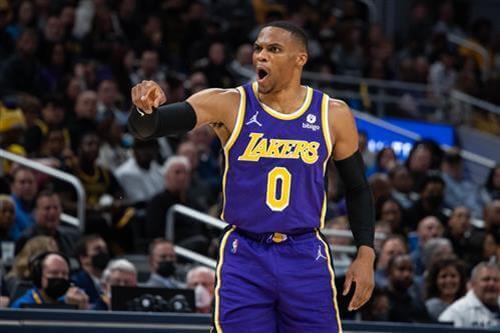 At a quick glance, Russell Westbrook has been more or less the same player for the Los Angeles Lakers that he was in Washington last season; from a statistical standpoint, anyway.
His effective field goal percentage is currently within .003 of what it was with the Wizards last season. And while his points, rebounds and assists are all down a touch, he's also taking fewer shots and getting less opportunity to put up numbers while sharing the court with a veritable cavalcade of stars.
In other words, Rob Pelinka and the Lakers brain trust are getting exactly what they paid for. However, what they paid for doesn't look like something that will bring the franchise its 18th NBA championship.
As of this writing, the Lakers — who were considered by some to be title contenders — are sitting at 10-10 at the season's quarter-point. And Westbrook is rocking a net rating of minus-4.3 while leading the league in turnovers at 4.9 giveaways per contest.
With all of that being the case, some fans already find themselves wondering whether there might be some way to pull the plug on the Westbrook experiment. They wonder — can the Lakers trade him? Will he do the team a favor and opt out of his contract this summer? Alas, the answer to those questions is likely one and the same.