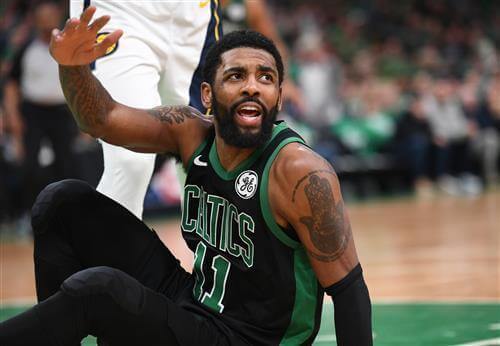 ESPN insider Brian Windhorst claims former Cleveland Cavaliers point guard Kyrie Irving was "angry" after the Cavs defeated the Golden State Warriors in the 2016 Finals.
Windhorst, who covered the Cavs on a day-to-day basis that season, says Irving is a "hell of a player, strange man."
"Kyrie is a strange dude," Windhorst said on the Brian Windhorst & The Hoop Collective podcast. "They (Celtics) win Game 1. He played okay. He kind of took over in the second half. He runs over to his family after winning Game 1 in the same vein Tiger (Woods) ran over to his family after winning The Masters. He's celebrating with his dad. I'm all for it.
"He won The Finals (in 2016 with the Cavs) and he was angry. He seriously won The Finals, his father and sister came out to hug him and he was angry. He was mad, in that moment. And then, when he got to the locker room, while his teammates were celebrating, he FaceTimed Kobe (Bryant).