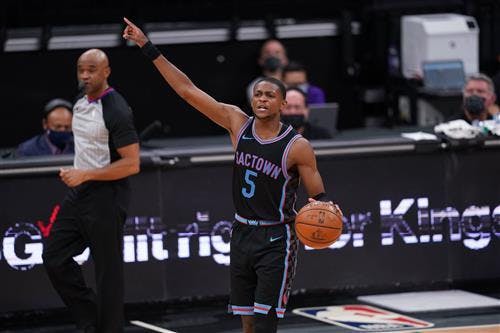 The trade deadline is just around the corner in the NBA world. There's no doubt a lot of teams will be looking to add players or shake up their roster.
Multi-team trades are more commonplace in the modern NBA, and it is possible that we see some blockbuster trades ahead or at the deadline.
In this article, we provide a multi-team blockbuster trade scenario where players that have been featured in trade rumors like Ben Simmons and Harrison Barnes move on to new destinations that could use their abilities. The Kings would notably get Ben Simmons and Russell Westbrook, the 76ers would get De'Aaron Fox, and the Los Angeles Lakers would get Harrison Barnes.
Sacramento Kings Receive: Ben Simmons, Russell Westbrook, Tobias Harris
Philadelphia 76ers Receive: De'Aaron Fox, Buddy Hield, Marvin Bagley, Tristan Thompson, 2022 first-round pick (SAC)
Los Angeles Lakers Receive: Harrison Barnes, 2025 first-round pick (SAC), 2022 second-round pick (ATL)
Kings Shake Things Up And Become A More Competitive Team
The Sacramento Kings have had the league's longest playoff drought. This trade would help them acquire some players who can get them to the postseason.
Ben Simmons would obviously be the main acquisition for the Sacramento Kings. He is a top-tier defender and playmaker and would be an even better player if he develops his offensive game further. Simmons is the type of talent worth taking a risk on.
Russell Westbrook and Tobias Harris are both viewed as negative contracts around the league, but they are still good basketball players. Russell Westbrook does a lot of positive things on the offensive end as a playmaker and slasher, and Tobias Harris is a decent scoring wing. They could definitely be contributors on a playoffs team.
A major appeal of this trade for the Sacramento Kings is their ability to retain Tyrese Haliburton and Davion Mitchell while getting impact players on the roster.