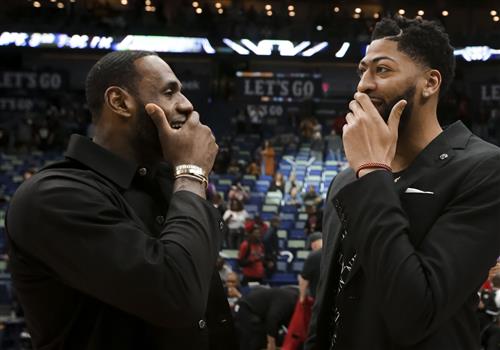 The approaching 2019 NBA offseason means attention will soon pivot from reality to fantasy.
When the games end, roster reconstruction begins. That means the draft, free agency and, most of all, fanciful trade speculation. Every team has a shot to do something spectacular over the summer, and one of the most satisfying pastimes is thinking up league-altering trades.
Who doesn't want to concoct wild scenarios in which All-Stars swap cities and rosters get overhauled?
This is a tricky time to dream up pie-in-the-sky trades because all 30 teams have unsettled 2019-20 rosters. The draft and free agency still lie ahead, and this summer's market is particularly robust. Somewhere around 40 percent of the league's players will be free agents.
That'll make the normal salary-matching requirement impossible at this juncture. When you don't know where teams will be in relation to the salary cap (because they have half-full rosters), you can't abide by the strict rules of the CBA. Consider these proposals rough outlines; we'll name the principal pieces we'd like to see moved in blockbuster exchanges and worry about the cap minutiae another time.
We can't include players unless they're under contract, so free agents won't be involved. Guys with player or team options are allowed. If they weren't, we'd be drawing from a shallow pool of trade candidates.
Dream big, NBA trade maestros.
Boston Gambles Big
New Orleans Pelicans Get: Jayson Tatum, Jaylen Brown, Marcus Smart, 2019 first-round pick*, 2019 first-round pick (via Clippers)
Boston Celtics: Anthony Davis
The Pelicans don't know where Zion Williamson will end up, which they should consider when looking for Davis trade partners this summer. If Williamson isn't obtainable, the Pels should turn their attention to the Celtics and their naked willingness to bet the farm on AD.
The Celtics telegraphed their intentions in February when they told the Pelicans that "everyone can be available," per Shams Charania of The Athletic
The Pels should make outrageous demands.
They should hem and haw until the Celtics agree to take back Solomon Hill's salary or include the Memphis Grizzlies' 2020 protected first-rounder (assuming it doesn't convey this year). If Boston's serious about adding AD to a core that includes a re-signed Kyrie Irving, Gordon Hayward and Al Horford, New Orleans should wring out every last asset it can get.
The above deal is a starting point for the Pelicans. Considering the Celtics would have the profile of a serious title threat after adding Davis, they may decide there's almost no price too high.
*We have to wait until after July 1 to swing this deal so the Celtics can re-sign Irving and get past the rule prohibiting a team from trading for two "Rose Rule" extension holders. This would have to be one of those situations where the Pelicans tell the Celtics whom to take in the draft, and then wait for that player to be in the trade package after July 1.
Utah Spaces the Floor
Utah Jazz Get: Kevin Love
Cleveland Cavaliers Get: Derrick Favors, Dante Exum, 2019 first-round pick, 2019 second-round pick
There's nothing complicated about this one.
The Cavaliers are in the fledgling stages of a rebuild, and Love has no real role on a team in this position. He's heading into his age-31 season and will collect $120.4 million over the next four years of his contract extension.