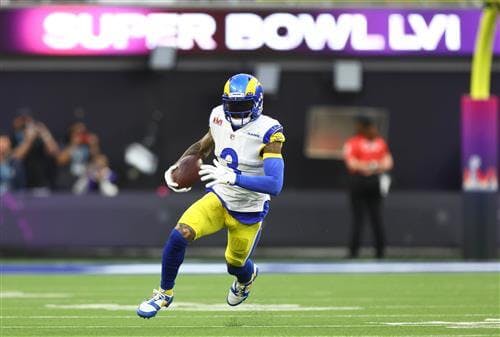 It's been six days since the legal tampering period started and NFL teams were allowed to negotiate with free agents, and the signings continue to come in fast and furious.
Many of the tops names that were anticipated to lead the class have already been signed. The deluge of free-agent additions can be hard to keep up with in the first week.
Yet, there are still some intriguing options that remain unsigned. Here, we'll take a look at the top names left from our free-agent big board heading into the weekend.
Best fits were determined by each player's potential role with a team as well as the resources those teams have considering the moves they have already made.
DB C.J. Gardner-Johnson (Signed with Lions)
Best Fits: Philadelphia Eagles, Atlanta Falcons, Denver Broncos
It's a bit surprising that C.J. Gardner-Johnson is the last of the top-tier safeties remaining on the market. Jessie Bates III, Jordan Poyer and even Jimmie Ward all either re-signed or were inked to new deals within the first few days, and the 25-year-old remains unaffiliated.
The most obvious choice for the boisterous safety is Philadelphia. The Eagles traded for him last offseason, and he rewarded their investment with six interceptions in 12 regular-season games and three starts during a playoff run that led to an NFC championship.
His ability to play as a safety or a slot cornerback was huge for Philly, and the Eagles proved they could maximize his skills.
If Gardner-Johnson is no longer feeling the brotherly love of Philly, then a reunion with former Saints defensive coach Ryan Nielsen in Atlanta could be in order. Nielsen was the associate head coach during Gardner-Johnson's last year in New Orleans, and now he's the defensive coordinator for the Falcons.
Atlanta already signed Bates, but Gardner-Johnson's skill set is different. His ability to play near the line of scrimmage and in the slot would create a dynamic pairing in the Falcons' secondary, and they still have the second-most cap space in the league.
The Broncos are among the teams interested in the defensive back, per Aaron Wilson of KPRC Houston 2. The fit there makes sense, as new defensive coordinator Vic Fangio possibly may be looking for a replacement for Kareem Jackson, who is also a free agent.
LB Bobby Wagner
Best Fits: Seattle Seahawks, Philadelphia Eagles, Buffalo Bills
Bobby Wagner is approaching 33 years old but is still playing at an elite level. He was PFF's highest-graded off-ball linebacker in 2022.
Wagner's release from the Seahawks was a major move in their perceived reset last year. The linebacker subsequently signed with the Rams, which went on to finish 5-12 while the Seahawks were surprisingly 9-8.
With Cody Barton signing with the Washington Commanders, the middle linebacker spot is once again vacant in Seattle. Wagner is an obvious fit if he's already interested in a homecoming.
The Eagles are going to be rebuilding parts of their defense on the fly. They've done a good job of retaining some free agents, but the gap left behind by T.J. Edwards will have to be filled. Nakobe Dean is waiting in the wings, but Wagner would be too good to pass up for the right price, as he would be an immediate plug-and-plat option that could keep them at a Super Bowl level.
If it's Wagner's goal to contend, the Bills aren't a bad destination, either. They also lost a linebacker (Tremaine Edmunds) to the Bears, and signing Wagner would give Buffalo another dominant linebacker to pair with Matt Milano.