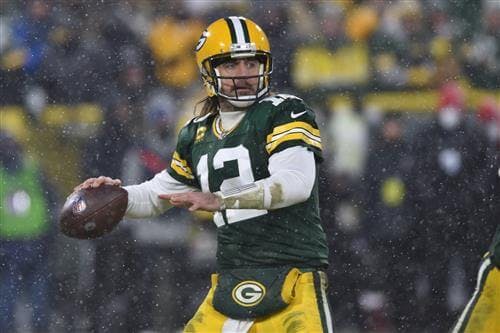 Green Bay Packers quarterback Aaron Rodgers has yet to make a decision about playing in the NFL next season.
Appearing on The Pat McAfee Show Tuesday, Rodgers said that "when I make up my mind, everybody will know." The multi-time NFL MVP also seemingly broke some major news as it relates to a potential trade from Green Bay. Apparently, the Packers' brass is discussing deals with other teams. Thus far, said talks have not included the quarterback.
"It sounds like there's already conversations going on that aren't involving me, which are interesting," Rodgers said.
There's several layers to this. If Rodgers has not made a decision about playing in 2023, why would other teams be engaging the Packers in trade talks? Common logic suggests a firm commitment from Rodgers in order for a team to actually pull off a trade for the future Hall of Fame quarterback. Without that, it seems to be more window dressing than anything else.
Secondly, Rodgers has more than earned the right to be involved in these conversations. He's one of the greatest players in Packers history, has led the team to a Super Bowl title and continued to remain faithful to the organization through both the thick and thin. This isn't to say Rodgers should be able to dictate where he goes. Rather, he should be involved in the talks.
It sure does seem like drama will be the name of the game between Rodgers and his Packers for a second consecutive offseason. Remember, he had requested a trade early last spring before ultimately backing down and signing a record-breaking extension.