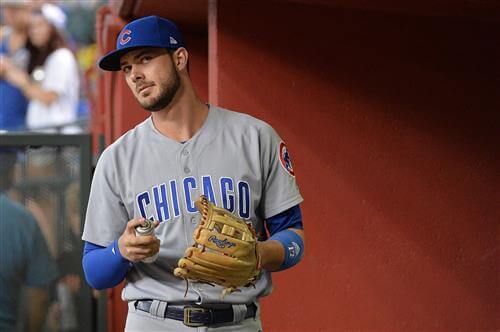 There has been a lot of talk all offseason about a superstar getting moved in a trade, and it wasn't until this week that such a blockbuster was finally agreed to, with 2018 AL MVP Mookie Betts (along with left-hander David Price) reportedly going from the Red Sox to the Dodgers in a three-team deal that also involves the Twins.
Will this embolden other general managers to swing a similar type of blockbuster? If so, a name to watch is Cubs third baseman Kris Bryant.
The Cubs have been open about their willingness to listen on any of their players. And a big part of the reason the Cubs are even discussing a trade involving the 2016 NL MVP is that Bryant -- along with Anthony Rizzo, Javier Báez and Kyle Schwarber -- is scheduled to hit free agency following the 2021 season. And the team presumably won't be able to hold on to all of them.
Whether Bryant is moved before pitchers and catchers report remains to be seen, as the Cubs could opt to take their time and shop him in advance of the July 31 Trade Deadline (or next offseason).
Which teams might make a play for Bryant? Here are five that make sense, including one that may surprise you.
1. Atlanta Braves
Atlanta missed out on both Anthony Rendon and Josh Donaldson, leaving Austin Riley and Johan Camargo to man third base. GM Alex Anthopoulos has a treasure trove of prospects if he chooses to take a run at a trade for Bryant, who would add the big bat many feel the defending NL East champions still need. The Braves have also been linked to Nolan Arenado, the other big-name third baseman being discussed in trade rumors.