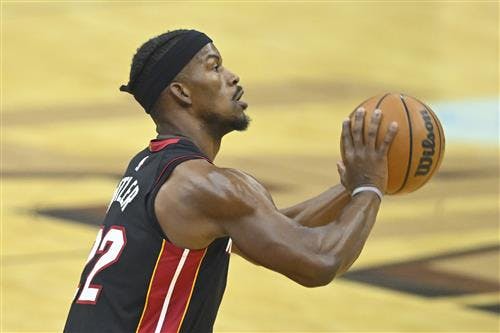 With the 2023 NBA trade deadline a week away, there's still plenty of time for wild speculation, machinations and general trade-machine tomfoolery.
Here, you'll get all of the above.
In January, we proposed an "absurd" mega-trade that moved John Collins, Myles Turner, Russell Westbrook and more.
Now, we'll take a look at another potential deal that would shuffle a handful of players—like Russ, Bones Hyland and Bojan Bogdanovic—who are in the rumor mill (plus a few who aren't) and flip the landscape of the 2023 title pursuit.
The Trade
Before we get into the justifications for each of the teams involved, though, it's always helpful to see the entire deal at a glance.
As always, feel free to haggle over the young players and picks involved. You may value a given prospect or asset differently than me. That's fine. This is mostly about the general framework below.
Los Angeles Lakers Receive: Bojan Bogdanovic, Kyle Lowry and Ish Smith
Detroit Pistons Receive: Russell Westbrook, Zeke Nnaji, a 2028 first-round pick swap with the Denver Nuggets, a 2028 second-round pick from the Miami Heat and a 2029 first-round pick from the Los Angeles Lakers
Miami Heat Receive: Michael Porter Jr., Bones Hyland, Marvin Bagley III, a 2027 first-round pick from the Los Angeles Lakers and a 2029 first-round pick from the Denver Nuggets
Denver Nuggets Receive: Jimmy Butler, Alec Burks and a 2027 second-round pick from the Los Angeles Lakers
Now (*takes a deep breath), for the explanations of this masterpiece.
Lakers Push in the Chips
Los Angeles Lakers Receive: Bojan Bogdanovic, Kyle Lowry and Ish Smith
Los Angeles Lakers Lose: Russell Westbrook, a 2027 first-round pick, a 2027 second-round pick and a 2029 first-round pick
Thirty-eight-year-old LeBron James has proved himself worthy of a win-now trade this season (as if the previous 19 years weren't enough).
With 30.2 points, 8.5 rebounds and 7.1 assists, he's still putting up numbers that would earn him MVP buzz in most other seasons. And, when he's been healthy, Anthony Davis has arguably been even better than LeBron (he tops him in box plus/minus and certainly has the bigger defensive impact).
That top two can still compete for a title, provided it's surrounded by a decent supporting cast. To this point in the season, it just hasn't been. There are two highly coveted assets and a massive expiring contract that can fix that.
We've heard or read about a ton of "Russell Westbrook and picks" trades, but months of reporting suggests the front office isn't interested in completing any such deal if it doesn't make the Lakers a contender.
Given the parity in the middle of the Western Conference and the fact that the sub-.500 Lakers are within three games of sixth place, L.A. could talk itself into this deal making it a contender.
It'd certainly be an older lineup, but the combination of playmaking and shooting in a group that includes Kyle Lowry, LeBron James, Bojan Bogdanovic, Rui Hachimura and Anthony Davis is good enough to spur a regular-season run and upend an underwhelming third or fourth seed in the first round.