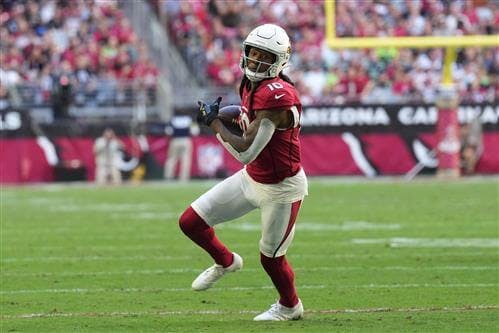 We have entered the second phase of free agency in the NFL. The first wave of moves is in the rearview mirror, and now teams are starting to fill out their rosters ahead of the NFL draft.
However, there are still some very talented players available, both in free agency, and through potential trades. Perhaps the biggest name out there is that of Arizona Cardinals wide receiver DeAndre Hopkins. A potential trade for the veteran receiver has been discussed throughout the offseason, and according to a recent report from Ian Rapoport of the NFL Network, trade talks are "ramping up" among potentially interested teams?
Of course, as noted by Rapoport given Hopkins' contract, there are financial considerations.
Still, he is one of the top receivers in the league, so there should be interest, even if the market is hampered by the size of his deal.
What teams could be in the mix for his services? Here are the top contenders.
Chicago Bears
Having traded out of the first-overall selection, the Bears are making a push to build around Justin Fields, at least for the 2023 season. Adding wide receiver D.J. Moore is part of that push, but the Bears could still benefit from a receiver like Hopkins.
Atlanta Falcons
Right now, the Atlanta Falcons' starting wide receivers are Drake London, Mack Hollins, and Josh Ali, according to Ourlads.
Perhaps an addition is in order.
There might be some overlap in play styles between London and Hopkins — and frankly tight end Kyle Pitts, who often aligns outside and plays like a big WR — but similar to the discussion around Fields and the Bears, Hopkins offers a nice security blanket to a young, developing quarterback in Desmond Ridder.
Also similar to the Bears? Atlanta has the cap space for such a move.