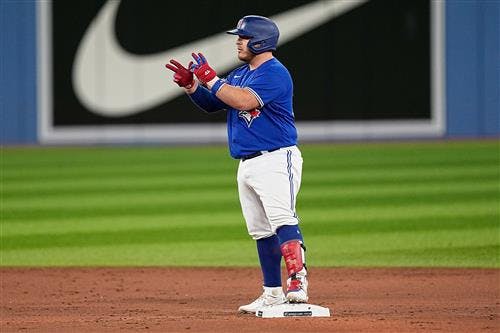 While many of you are hunting the aisles and the internet for blockbuster bargains on this Black Friday, I'm over here dreaming up deals of a different sort.
This list of Hot Stove trade proposals is always one of the most fun columns to write each year, and then the fun gives way to the frustration of a bunch of strangers yelling at me and telling me my trades are terrible.
Such is the life of a (fake) baseball general manager.
So let's do it again! I'll provide the trades, and you provide the tirades. That sounds like a pretty good deal, doesn't it?
1. Mullin' it over
Orioles get: RHP Pablo López
Marlins get: OF Cedric Mullins
Hey, what's more satisfying than a straight up Major Leaguer-for-Major Leaguer swap? Here's one that … might work?
López is coming off a career high in innings (180) with his third straight ERA+ above league average. He is the best starting pitcher known to be available in this trade market, after conversations about him over the summer obviously did not result in a deal. The Marlins are looking for a stabilizing presence in center field, and an Orioles team with strong position-player depth and a need for a reliable starter might be an ideal trading partner.
Mullins did not replicate his breakout All-Star output from 2021 at the plate this past season, but he's still an exciting player with elite defense and speed that has resulted in consecutive 30-steal seasons. Though parting with him would be difficult for Baltimore, the O's have prospect Colton Cowser knocking on the door to the big leagues.
López has two years of arbitration remaining, while Mullins has three. So the trade is unbalanced from that perspective, though perhaps that concern is mitigated by the value of premier pitching. Maybe a one-for-one swap doesn't work, but Mullins-for-López creates at least an intriguing starting point.
2. A post-Yadi pact
Cardinals get: C Alejandro Kirk
Blue Jays get: 2B/DH Nolan Gorman, RHP Freddy Pacheco (Cardinals' No. 22 prospect)
The Cardinals need to replace a legacy catcher and have interesting position-player depth elsewhere. The Blue Jays have an excess of talent at the catching spot and need a left-handed power bat. Let's get these crazy kids in a room together (preferably at the Winter Meetings) and hash this out.
Here's a proposal: A deal sending 2022 All-Star Kirk to St. Louis, where he can ably fill Yadier Molina's big shoes and give the Cards an offensive boost with his terrific discipline and contact.
To get Kirk, the Cards give up Gorman, whose range limitations make his viability at second base a question mark in the post-shift world. What is not in question is his power potential from the left side of the plate, and, boy, do the Blue Jays need to balance their right-leaning lineup. They could conceivably shift Gorman to a corner outfield spot and/or use him as a DH. (The Cards could of course do the same, but they have outfield depth and top prospect Jordan Walker looming). The hard-throwing Pacheco rounds out this deal as a near-term bullpen option for the Blue Jays.
If that seems like an overpay for Kirk or if the Blue Jays would prefer to keep Kirk, then these clubs could still match up on a deal for Gabriel Moreno or Danny Jansen. Or perhaps there's a deal to be swung in which the left-handed-hitting Lars Nootbaar goes to Toronto instead of Gorman. The bottom line is these two teams can fill each other's needs, one way or another.