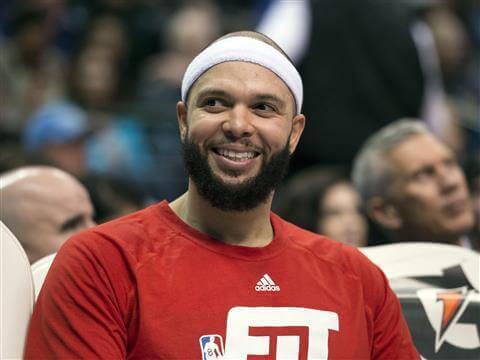 In the post-amnesty NBA, there are no more contract mulligans.
However, the stretch provision can help get bad—or unwanted—money off the books. If a team waives a player and triggers this mechanism by Aug. 31, his remaining salary is stretched over twice the number of years on his contract plus one.
The cap hit doesn't go away. But in some cases, it's easier to digest it through smaller amounts over a longer period of time. Of course, the flip side is the contracts are on the ledger more than twice as long as they would've been.
It's not quite a Bobby Bonilla Day situation, but you still wouldn't believe which blast-from-the-recent-past ballers still appear on 2019-20 NBA payrolls. To compile this list, we focused on signings you noted at the time but might since have either forgotten or assumed enough time had passed to wipe the slate clean.
Notable Exclusions
Luol Deng (Los Angeles Lakers)
The summer of 2016 was defined by myriad brutal signings, but Deng's four-year, $72 million deal is among those cited most for its absurdity.
Even in a changing economy, the 31-year-old clearly wasn't worth that kind of coin. Plus, this was the Lakers' first summer without Kobe Bryant, and they were hoping it'd be a monstrous one. Kevin Durant topped the wishlist, but he didn't even grant them a meeting. So they made one of history's saddest pivots away from Durant and toward Deng and Timofey Mozgov.
Deng was out of the rotation by February of his first season and only appeared in the opener of his second. The Lakers waived him in Sept. 2018, meaning he'll pocket $5 million from them each of the next three seasons.
It's incredible he ever scored that contract. But given the market and the attention paid to his signing, it's unfortunately believable L.A. is still on the hook and will be for some time.
Andrew Nicholson (Portland Trail Blazers)
If your first thought regarding Nicholson is wondering who he is, then you already figured out why his deal didn't make the cut. It's tough to consider a contract as being unbelievably on the books if you weren't aware of its existence in the first place.
The 19th pick in 2012, Nicholson opened his career with four nondescript seasons on the Orlando Magic. Each ended with a negative box plus/minus and sub-replacement value. Yet somehow the Washington Wizards opted to sign him to a four-year, $26 million deal, which, admittedly, was pocket change by 2016 standards.
Before his first season on the new deal ended, so did his tenure in the District. The Wizards sent him packing to the Brooklyn Nets at the deadline—a swap most notable for netting Brooklyn the future first that later became Jarrett Allen—and the Nets then sent him to the Portland Trail Blazers in July 2017.
The Blazers waived him just ahead of the Aug. 31 cutoff, which stretched the remainder of his contract out to a whopping seven seasons. He's owed $2.8 million every year through 2023-24, which surely qualifies as an unbelievable amount. But unless you're a true hoops head, this might be the first and only time he enters your stream of consciousness.
Joakim Noah (New York Knicks)
Noah is featured prominently on the Mount Rushmore of egregious 2016 signings. The 31-year-old was coming off an abysmal and injury-riddled campaign in which he shot just 38.3 percent and both strained and later dislocated his left shoulder.
The Knicks—being the Knicks—decided he was nevertheless worthy of a four-year, $72 million deal. His first season unraveled amid knee surgery, a 20-game drug suspension and a torn rotator cuff. He played just seven games in 2017-18 and was exiled from the team in January.
New York finally waived Noah in October, stretching his $19.3 million cap hit into $6.4 million burdens for the upcoming season and the following two. In another year or two, his contract might headline this list, but the wound is fresh enough to be firmly in the mind of 'Bockers backers.
Matt Barnes (Sacramento Kings)
When Father Time collides with an aging veteran, most shield their eyes. The Sacramento Kings broke out their wallets instead.
The eye test and the stat sheet both concluded Matt Barnes was finished in 2015-16, his age-35 season. He shot a career-worst 38.1 percent from the field. His 32.2 percent three-point conversion rate was his worst in five years. Among the 117 players to log 2,000 minutes, he was 13th-worst in player efficiency rating and 14th-worst in win shares. Everyone ranked behind him was younger—most considerably so.
The only kind thing to say about the campaign was that he timed his tailspin perfectly. It was 2016, known heretofore as the summer of regret. Everyone had money to burn, including the Kings, who deemed Barnes worthy of a two-year, $12.5 million pact.
Fifty-four games of 38.4/32.7/75.8 shooting later, they waived him and stretched his remaining salary. He landed with the Golden State Warriors and celebrated a championship shortly thereafter. But by December, he Insta-announced his retirement.
He played his last NBA game in June 2017, but he has another $2.1 millionheaded his way this season from Sacramento.
Monta Ellis (Indiana Pacers)
While Monta Ellis' recent comeback attempt seemingly went nowhere, that won't stop his flow of NBA paychecks.
The scoring guard who once shared a backcourt with Stephen Curry is owed $2.2 million by the Indiana Pacers this season?—and each of the next two. When Ellis' final payment arrives in 2022, he'll be five years removed from his final appearance.
The contract?—?a four-year, $44 million deal inked in 2015—seemed reasonable enough. The Pacers needed an offensive costar for Paul George, and Ellis was riding an eight-year wave of averaging 18-plus points. Indy even had the defensive depth to compensate for his primary weakness.
But his scoring took a hit in the Circle City (13.8 points per game his first season, 8.5 the next), and the Pacers discovered he didn't have much else to offer. He lost his starting gig midway through the second campaign, and he never found his groove. When the Pacers were swept out of the opening round by the Cleveland Cavaliers, his minutes plummeted from 28 in the series opener to just six in the finale.
The situation only worsened from there.
Ellis was hit with a five-game suspension for violating the league's anti-drug program on June 16, 2017. Two days later, George requested his ticket out of town. By July 5, Ellis was out, leaving Indy on the hook for his remaining $11.2 million salary.
Larry Sanders (Milwaukee Bucks)
Before Giannis Antetokounmpo resurrected the Milwaukee Bucks, defensive anchor Larry Sanders once carried the weight of the franchise on his broad shoulders.
His time at the top was fleeting—just a single breakout season, really. In 2012-13, the springy 6'11" center signaled his NBA arrival with a slew of career-best averages, including 9.8 points, 9.5 rebounds and 2.8 blocks in 27.3 minutes. He was second in blocks per game and seventh in Defensive Player of the Year voting.