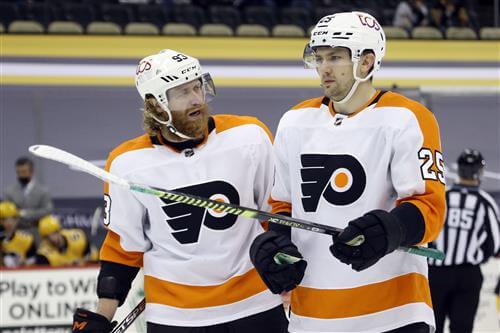 It's official: The Seattle Kraken are a thing.
The NHL's newest team will take shape for its inaugural season this week, following submission of protected player lists Saturday by 30 of the league's other teams.
The Kraken will choose from the players who were left unprotected and submit their 30 picks (one from each team) to the league office by Wednesday morning.
Their expansion draft picks will be announced on Wednesday at 8 p.m. ET.
Here are a few predraft specs:
• Seattle must pick at least 20 players who are already under contract for 2021-22, meaning no more than 10 of its choices can be players due to become free agents on July 28.
• The salary-cap hits of the under-contract players picked must account for at least 60 percent ($48.9 million) of next season's $81.5 million cap limit.
• If the Kraken do target a would-be free agent who is unprotected, they have a 72-hour interview window with that player before picks are submitted on Wednesday.
• The Vegas Golden Knights were not required to submit a player list as part of an agreement made when they entered the league as an expansion team in 2017-18.
OK, got all that?
Great!
Needless to say, the B/R hockey writing types have been busily scanning the protected player lists since they went public Sunday morning, and we consequently made it our mission to compile our own list of six players Seattle simply must have on the ice at Climate Pledge Arena when play begins in October.
Without further ado, read on to see our picks for the Kraken's first starting lineup, and make sure to drop us a line in the comments section to let us know your thoughts.
Chris Driedger, G, Florida Panthers
You've got to have a goalie.
And though there are higher-profile and higher-Priced (pun intended) options out there now that the protected lists have been submitted, none come at a better value than Chris Driedger.
The third-round pick from 2012 is only 27, is coming off his busiest and most effective season in the NHL—2.06 goals-against average, .927 save percentage—and is about to become an unrestricted free agent, meaning Seattle general manager Ron Francis can acquire his services at an agreeable rate.
The Kraken could go the Vegas route and select Carey Price, following the model established when the Golden Knights picked veteran Marc-Andre Fleury in 2017, but the Montreal goalie is 33, his regular-season numbers were far off Driedger's in 2020-21 and he's due $10.5 million for each of the next five seasons.
TSN's Pierre LeBrun has reported a run at Driedger is already in the works, and we agree with the logic.
Get the emerging talent here, and make the big-money splashes elsewhere.
Vince Dunn, D, St. Louis Blues
It's the stuff that executive suite dreams are made of.
OK, that's a little strong. But perusing the roster of available players and seeing Vince Dunn's name on it has got to be a good thing for GM Francis.
Not only is the St. Louis Blue defenseman just 24, but he's also a mobile blueliner who thrives in a puck-possession system. A move to Seattle would give him a chance to be a first-pair player who would be in the mix for time on the power play as well.
Dunn scored 12 goals two seasons ago and had 20 points in just 43 games in 2020-21 on a one-year contract that paid him $1.875 million.