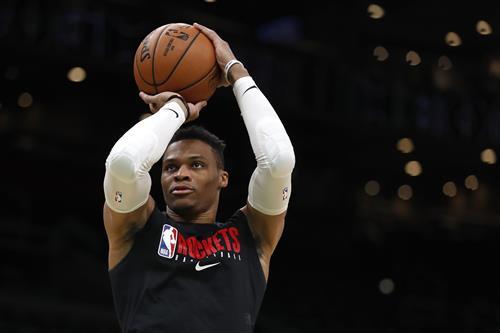 Russell Westbrook is a current superstar point guard and sidekick to James Harden in Houston. He is having a sensational season, averaging 27.5 PPG, 8.0 RPG, and 7.0 APG while shooting 47.4% from the field. He is his usual athletic self, attacking the rim every time he gets the ball and opening up space for Houston's shooters.
But the Rockets are in win-now mode and do not have time to waste as long as James Harden is on the squad. While Russ was involved in trade rumors earlier this season, the Rockets made it clear that he was untouchable. But if the Rockets don't get it done in the postseason, that can change overnight.
If the Rockets don't win it all this year, here are the best trade destinations for Russell Westbrook.
6. Denver Nuggets
Trade Package: Jamal Murray, Will Barton, Michael Porter Jr., First Round Pick for Russell Westbrook
If the Rockets want to move on from Russell Westbrook, Denver might have the best trade package for Houston. Denver will offer star point guard and sharpshooter Jamal Murray, promising young forward Porter Jr., and energetic scorer Will Barton. Three guys that can fit Houston's system would be the best way to replace Westbrook's productivity on the court.
For Denver, they would finally get their second All-Star to pair with Nikola Jokic. Russ and Jokic could work together since the latter can space the floor without clogging up the paint for Russ when he attacks. Denver also have a strong basis to possibly grab another All-Star to make Denver a more lethal team to play against in the playoffs.
5. Phoenix Suns
Trade Package: Ricky Rubio, Deandre Ayton, Kelly Oubre for Russell Westbrook
If the Rockets want to move on from Russell Westbrook, Phoenix might have an attractive package of two young players and an effective ball handler. While Rubio isn't needed in Houston's offense to score, he can handle the rock when Harden rests.
Ayton would give Houston some size if they see that small ball doesn't work this year, while Kelly Oubre is an excellent two-way forward that can be a staple in Houston's offense. The Rockets are a franchise that won't settle for mediocrity, so they can switch philosophies if necessary.