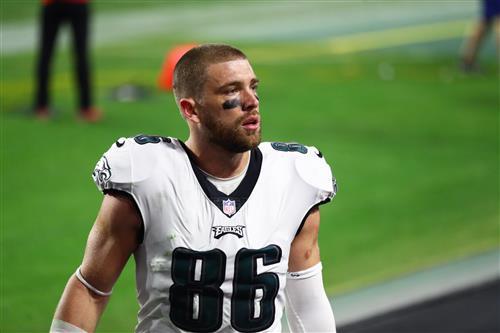 With the major NFL free-agency dominoes settled, the next big bit of roster movement ahead of the draft on April 29 will come from releases and trades.
Trades figure to take the spotlight as front offices look for any compensation for players they might end up releasing anyway. During a normal year, big trades involving players or early picks might not happen until the draft itself gets underway, but that hasn't been the case this year.
Our list includes guys who have popped up in trade speculation in the past, plus big-name players who just make sense given their respective teams' directions and projected draft plans. Contractual status is part of the equation too.
Zach Ertz, TE, Philadelphia Eagles
With the Carson Wentz era sputtering to a stop, Zach Ertz has been a staple of trade speculation since last year's trade deadline.
Ertz, now 30, played in just 11 games last year, catching 36 of his 72 targets for 335 yards and one touchdown, by far the toughest year of his career. He's in the final year of his deal with a cap hit of $12.5 million.
NFL Network's Ian Rapoport reported the Eagles have given the veteran tight end permission to seek a trade, with ESPN's Marcel Louis-Jacques reporting that Philadelphia has asked for a third-round pick.
It's not an unreasonable ask if the buying team believes it can help stabilize Ertz's production in new surroundings and get him back near the 916 yards and six scores he put up in 2019. If the Eagles want to get anything in return before the draft, though, they will likely need to settle for less.