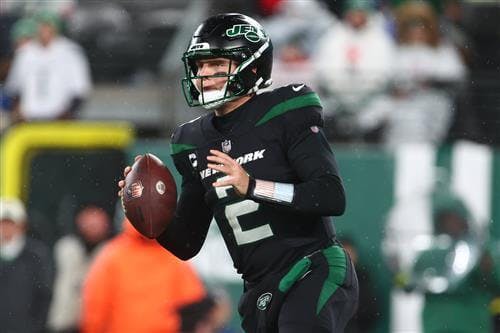 NFL Draft trades have had a huge impact around the league over the past several years. Let's look at last year as a case study. The Philadelphia Eagles would not have earned a trip to the Super Bowl without pulling off a blockbuster trade for star wide receiver A.J. Brown during the 2022 NFL Draft.
This has been a common theme for contending teams. That is to say, adding proven veterans to the mix during the draft rather than relying on rookies.
As the 2023 event quickly approaches, we have already seen one mammoth blockbuster take hold with the Carolina Panthers moving up from the ninth pick to No. 1 overall with the Chicago Bears.
In continuing with this theme, let's check in on five NFL Draft trades we'd love to see during the 2023 event in Kansas City.
New York Jets deal Zach Wilson during NFL Draft
Jets get: 47th pick in 2023 NFL Draft
Commanders get: Zach Wilson
The Jets' brass would like us to believe that Wilson has a future with the team despite benching the immature young quarterback multiple times during his sophomore season. With Wilson's early-career performance akin to one of the biggest NFL Draft busts in history, JaMarcus Russell, there's no reason to believe New York will hold on to him. Just look at how poorly the former No. 2 pick has performed through two seasons.
Zach Wilson career stats: 55% completion, 4,022 yards, 15 TD, 18 INT, 70.9 QB rating
JaMarcus Russell career stats: 52% completion, 4,083 yards, 18 TD, 23 INT, 65.2 QB rating
If you're being compared to Russell, there's very little belief that somehow a turnaround is going to be in the cards. With Aaron Rodgers set to join the Jets eventually, there's absolutely no reason for them to retain Wilson. It would create an ugly locker room dynamic. Instead, New York sends the young quarterback to a Commanders squad who is in a position to take a chance on him.
Jerry Jeudy lands with the New York Giants
Browns get: Jerry Jeudy
Broncos get: 26th pick in 2023
New York has not been bandied about a whole lot when it comes to Jeudy trade rumors. However, the team is in desperate need of more wide receiver help for recently extended quarterback Daniel Jones. Re-signing Darius Slayton and adding someone like Parris Campbell in free agency just isn't going to cut it.
In this scenario, the Giants part with their first-round pick to acquire a 23-year-old receiver who is coming off a career-best season. In return, Denver nets the first-round pick it has been demanding for Jeudy on the trade block. This just makes too much sense for both teams.