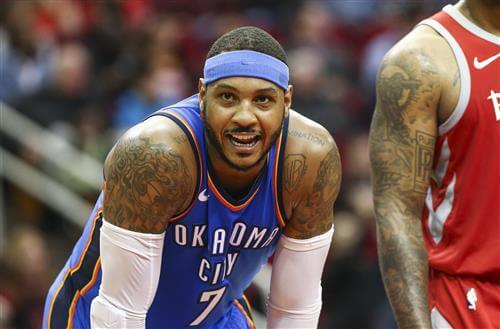 As we move through the first part of the NBA season, things are starting to come into focus. We sort of know which teams might be good and we likely know which teams might be bad. We've also seen a rash of injuries that have shaken the league. Steph Curry is out until the spring. Gordon Hayward broke his hand. Eric Gordon is out six weeks. Klay Thompson and Kevin Durant are likely out the entire season.
With so many high profile guys on the bench, you honestly can't tell me Carmelo Anthony doesn't deserve to be on a roster. We all have watched the Knicks this year. They couldn't use Melo? I just don't buy it. Sadly, Melo hasn't gotten a shot with a team this season and it doesn't look like he ever will again. Anthony recently said he's surprised that he's not signed, but staying ready for the moment. As NBA rosters continue to deal with injuries and subpar play, the Complex Sports squad picked out five teams that should seriously consider signing Melo right now.
New York Knicks
Not only could the Knicks use Carmelo Anthony on the court, but the could use some good will off the court too. Frankly, this season is already a mess and there are reports that head coach David Fizdale would already be on the way out after only one full season. The fans are ready to turn on you, so why not bring back Melo and let him light up the Garden a few times this season to give the team some excitement.
Portland Trail Blazers
The Blazer might be the most disappointing team to start this season. Expectations were high a year after making it to the Western Conference Finals, but they've stumbled out the gate and even lost a game when Dame put up 60. Maybe it's time they look for an added boost in scoring from Anthony.