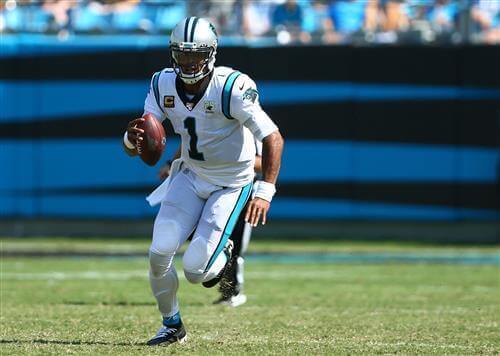 The Carolina Panthers will look to trade former NFL MVP Cam Newton some time in March. This has been known for a while now. Newton missed all but two games of last season with a Lisfranc injury.
For their part, the Panthers are looking to move in a different direction under first-year head coach Matt Rhule. He signed a seven-year contract en route to being lured away from Baylor. Rhule's plan in Carolina is going to be of the long-term variety.
It's in this that we look at the five most likely trade destinations for Mr. Newton as the NFL offseason gets going.
Las Vegas Raiders
We've previously focused on the fact that Jon Gruden and the Raiders are more than likely going to move on from Derek Carr at some point soon. Las Vegas is already being bandied about as a potential landing spot for Tom Brady. Needless to say, this team is both in need of a veteran quarterback and wants to make a splash as it relocates to the desert metropolis.
Of all the teams potentially in play for Newton, these Raiders make the most sense. Even with Carr still on the roster, Las Vegas has north of $54 million to spend against the cap. It also has two first-round picks in the 2020 NFL Draft, making it easier to part ways with other selections in a trade with Carolina.
Something to the tune of a 2020 third-round pick, 2021 second-round pick and a fringe veteran player could get this done. In the process, Las Vegas finds its stopgap option for the short term.
Chicago Bears
The Bears have noted that struggling young quarterback Mitchell Trubisky will be their starter next season. We're not buying into that PR spin. Chicago is in win-now mode with a championship-caliber defense. Trubisky continues to hold this team back at every turn.