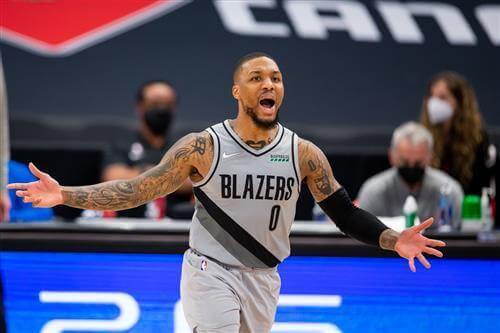 Could the Portland Trail Blazers be forced into pulling off a Damian Lillard trade this coming summer? Chris Haynes of Yahoo! Sports seems to think that the all-time great shooter is getting impatient in the Pacific Northwest.
For good reason. Despite his otherworldly play, the Blazers have failed in building a contending team around the future Hall of Famer. At 30-years-old, it might be time for the sharpshooting guard to force his way out of the Pacific Northwest.
Read More: Knicks Could Make A Run For Damian Lillard This Summer
If so, pretty much the entire NBA would come calling for a six-time All-Star who is averaging 27.5 points and 6.9 assists since the start of the 2016-17 season. Below, we look at five ideal offseason Damian Lillard trade scenarios.
Damian Lillard trade to the New York Knicks
Knicks get: Damian Lillard
Blazers get: R.J. Barrett, Obi Toppin, Mitchell Robinson, two future first-round picks
We already know that the Knicks will be going big-game hunting during the summer after opting against pulling off a blockbuster deal ahead of the NBA trade deadline. For good reason. The upstart team is slated to have roughly $60 million to spend during free agency. With some other moves, that could be enough to bring in two maximum contract players to pair up with NBA MVP candidate Julius Randle.
Finishing up shop on what has been a surprising season thus far, New York could opt to pull off the blockbuster to end all blockbusters. That would include giving up its past two lottery picks in Barrett and Toppin to entice Portland. From there, the Knicks give up the farm in the form of two future first-round selections. This type of move would still enable president Leon Rose and Co. to add another max contract player to team up with Lillard and Randle moving forward.
Damian Lillard trade to the Boston Celtics
Celtics get: Damian Lillard, Robert Covington, Jusuf Nurkic
Blazers get: Jaylen Brown, Kemba Walker, Robert Williams, first-round pick
Celtics general manager Danny Ainge continues to push back against giving up real assets for another star player. Not wanting to move off Jayson Tatum for either Anthony Davis or Kawhi Leonard makes sense in hindsight. With that said, Ainge's inactivity has these Celtics on the brink of irrelevance back east. A premature departure from the NBA Playoffs could force him to change up midstream.
The idea would be to team Damian Lillard up with Tatum to form an elite pairing. In turn, Portland nabs a potential franchise cornerstone in Jaylen Brown, a stopgap point guard option with Kemba Walker and a still-young big in Robert Williams. It also picks up a valuable first-round pick while moving off the contracts of Covington and Nurkic.