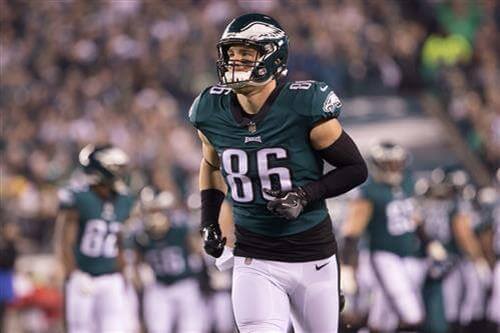 The 2020 NFL trade deadline is less than one week away, and teams are already starting to make minor moves throughout the league.
The Dallas Cowboys traded veteran pass rusher Everson Griffen to the Detroit Lions, while the Seattle Seahawks have since acquired another veteran pass rusher in Carlos Dunlap from the Cincinnati Bengals.
These moves could wind up making a difference, but they aren't all that exciting. Let's take a look at some potential blockbuster trades that would really shake things up in the NFL.
1. Philadelphia Eagles TE Zach Ertz to Green Bay Packers
It has been rumored that the Green Bay Packers and Baltimore Ravens have shown interest in Philadelphia Eagles tight end Zach Ertz. However, Ertz's ankle injury has complicated matters.
Even so, it always seemed more likely for the Packers to pull the trigger on this one as the Ravens already have Mark Andrews as the team's starting tight end. Of course, more firepower would only help Baltimore, but adding to the team's group of wide receivers was a more pertinent measure to take as the Ravens wound up signing veteran wideout Dez Bryant to the practice squad.
With Davante Adams already leading the way for quarterback Aaron Rodgers and the Packers, Ertz to Green Bay would be quite the splash in the NFL.
2. New England Patriots CB Stephon Gilmore to Tennessee Titans
With life after Tom Brady not looking too hot for Bill Belichick, the New England Patriots are apparently shopping All-Pro cornerback Stephon Gilmore.