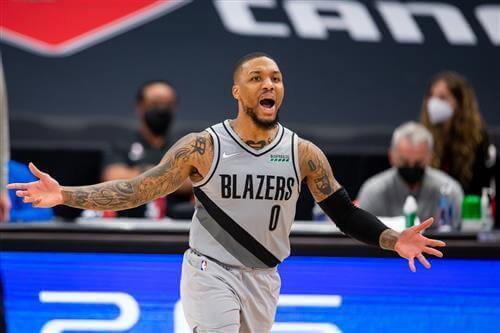 As a league, the NBA has a fair amount of superstar trades. The most recent one has been the James Harden trade, where James Harden moved to the Brooklyn Nets to create a superteam. If we look back a little further, there are other superstars that moved teams via trade: Anthony Davis and Kawhi Leonard are some semi-recent examples.
In the NBA anything could happen. Players are always on the move, and there is always the potential for a superstar trade to happen. There are lots of teams that will be looking to improve this summer and try to compete for a championship, which means they could choose to acquire a star. With that being said, here are some blockbuster trades that could happen this offseason.
5. Kristaps Porzingis To The Boston Celtics
Boston Celtics Receive: Kristaps Porzingis
Dallas Mavericks Receive: Kemba Walker, Payton Pritchard, Robert Williams, a future first-round pick, a future second-round pick.
Kristaps Porzingis is currently with the Dallas Mavericks, but during this offseason, he could potentially get traded. Porzingis' name has been involved in trade rumors before, and there are plenty of teams that would want to add the Latvian to their squad. One of those teams could be the Boston Celtics. The Boston Celtics need to do something to improve their roster, as they have disappointed this season. Perhaps Kristaps Porzingis could be a solid addition, as he would add a star-caliber big man to the Boston Celtics, and would provide more star power next to Jayson Tatum and Jaylen Brown for next season.
The Dallas Mavericks would receive a package with Kemba Walker who was an All-Star with the Boston Celtics last season, and two young prospects in Payton Pritchard and Robert Williams. Kemba Walker would provide some perimeter shot creation next to Luka Doncic. Robert Williams would immediately slot in as the starting center. Robert Williams has shown some promise with the Celtics, and perhaps more minutes could help him continue to develop. Payton Pritchard is a solid rookie who can shoot well and distribute the ball. The two future picks would help the Mavericks build around Doncic. It seems like this trade package could work for both teams.
4. Russell Westbrook To The New York Knicks
New York Knicks Receive: Russell Westbrook
Washington Wizards Receive: Frank Ntilikina, Obi Toppin, Kevin Knox, two future first-round pick
Russell Westbrook is a superstar on the Washington Wizards, who are a team that's 13th in the Eastern Conference currently. As the Wizards are a losing team currently, perhaps they could trade Russell Westbrook away this offseason in order to get some future assets in return. Russell Westbrook could bring in another veteran to the New York Knicks this offseason.