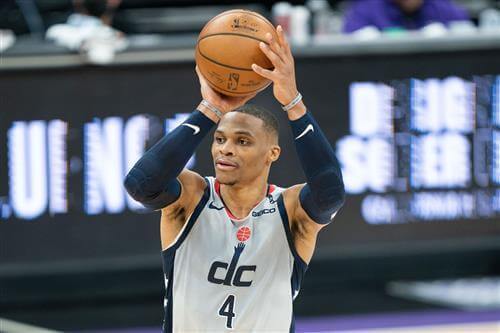 Draft Night is a moment of positivity and planning for all the teams in the NBA because of the possibility of drafting some of the nation's best young players. Especially this season, the draft is stacked with immensely talented prospects. But Draft Night is also an important night for teams looking to move up in the draft and that means trades are always expected.
We have already seen one blockbuster move in the wake of Draft Night with the Memphis Grizzlies shipping Jonas Valanciunas to the New Orleans Pelicans for Steven Adams, Eric Bledsoe, and a chance to draft a future star with the No.10 pick. But there is plenty more work to be done for some of the top teams in the NBA, and here are the 5 best trades that are expected to be made by draft night.
5. Luka Doncic Gets His Help In A Former All-Star
Trade Package: Josh Richardson, Dwight Powell, 2022 First-Round Pick, 2023 First-Round Pick for Kemba Walker
The Dallas Mavericks clearly need to find Luka Doncic some help. The Slovenian superstar is one of the best players in the world, fresh off a season averaging 27.7 PPG, 8.0 RPG, and 8.6 APG. With Luka leading the way, the Mavericks found themselves in the playoffs yet again.
But the Mavericks can't rely on the Luka Show every game. They need to make moves, either by trading Kristaps Porzingis or finding a player that can fit with Doncic and Porzingis together. That player could be Kemba Walker, a former 4-time All-Star point guard. Walker had a tough season this year, only playing 43 games and averaging 42.0% shooting from the field. His health has particularly deteriorated over the past few seasons.
That is why the Boston Celtics pulled the trigger to send him to Oklahoma City to free up cap space. For a player who was expected to replace Kyrie Irving in Boston, he didn't quite perform. But Walker is a player that can create his own shot, and still averaged 19.3 PPG this season. For only giving away 2 future picks and some role players, Kemba is certainly worth the gamble because a bounce-back season from the point guard could bring Dallas past the first round.
4. Kings Build A Dynamic Duo With Ben Simmons
Trade Package: Buddy Hield, Tyrese Haliburton, No. 9 Pick, 2022 First-Round Pick, 2023 Second-Round Pick for Ben Simmons
The Sacramento Kings have a budding star in De'Aaron Fox but everyone else on the roster is expendable. Fox had a strong season averaging 25.2 PPG and 7.2 APG and is ready to take the next step as an All-Star in the Western Conference. But the Kings need another star to pair with the speedy point guard.
That player could surprisingly be Ben Simmons, one of the best defensive players in the game. Despite the criticism that Ben Simmons received for his postseason performances, he is an impact player. Simmons averaged 14.3 PPG, 7.2 RPG, and 6.9 APG and played some of the best defense of his career. Philadelphia might need shooters to pair with Joel Embiid, which means Simmons could be headed to Sacramento.