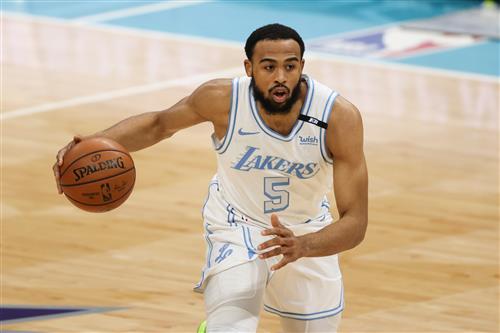 Talen Horton-Tucker is without a doubt a special talent that has shown flashes on the Los Angeles Lakers. While he isn't a featured player on a team with two superstars, he is clearly a skilled young player who can shine given the opportunity. Horton-Tucker will be a free agent this upcoming offseason.
While he will be restricted in free agency, it remains to be seen whether the Los Angeles Lakers will elect to retain him if a team offers him a large contract based on his potential. With that being said, here are the best destinations for Talen Horton-Tucker in free agency.
5. Charlotte Hornets
The Charlotte Hornets would be an interesting destination for Horton-Tucker, as at first glance, they have a fairly crowded guard rotation. But, talent is always welcome, and Talen Horton-Tucker could easily be a high usage player off the bench, getting a lot of touches for his development. Being a spark plug bench scorer would help him further develop his offense.
While the Charlotte Hornets were not known as an exciting destination until recently, that changed when they drafted LaMelo Ball this season, and put themselves in the picture for the playoffs. Talen Horton-Tucker next to LaMelo Ball could be the backcourt of the future, and as the veterans on the team get older, he would likely start to take over offensively.
4. Toronto Raptors
The Toronto Raptors look like they could be headed for a rebuild in the near future. They are near the bottom of the Eastern Conference, and will not be making the playoffs. Franchise point guard Kyle Lowry has been linked with many franchises in free agency and could leave in order to pursue a championship. The Toronto Raptors could elect to go all-in on youth, and that would make Horton-Tucker a perfect free agency target.
While Fred VanVleet and Gary Trent Jr. would likely be the immediate backcourt, this would be a situation where Talen-Horton-Tucker would eventually take over after learning how to run the offense off the bench. There is no doubt that the Toronto Raptors' development system is good, as they have a lot of talent that they have nurtured from the G-League on their current roster. Talen Horton-Tucker would be under a solid coaching system and would get the touches he needs for his development.
3. New York Knicks
The New York Knicks are an exciting young team, and coach Thibodeau has shown that he can get good things out of talented young players such as RJ Barrett and Julius Randle. He could do the same for Talen Horton-Tucker, and if Derrick Rose stays, that would be a unique opportunity for Horton-Tucker to learn from the former MVP. There is a notable viral photo of them posing together when Horton-Tucker was a child, so perhaps this would be an opportunity for Horton-Tucker to play with a childhood hero.