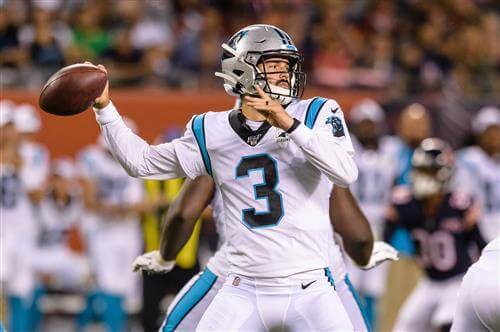 Now that the 2019 preseason is officially in the rear view mirror, it's become instantly clear that some rookies have established themselves as a bona fide studs. Some, however, either need a lot more seasoning before they emerge as starts or are showing some worrying signs that are leading some to prematurely assign them the dreaded "bust" tag.
5. Seahawks DB Marquise Blair
The Seahawks and their Cover 3 defense thought they had a match made in heaven in Blair, a big, speedy defensive back who could line up at several different positions. Blair has had some issues adjusting to the scheme early on, as he's seen a few passes go over his head and some ball carries slip through his grasp. He'll adjust to the NFL level, but Seattle can't be too thrilled with his performance in the preseason.
4. Panthers QB Will Grier
Those that were doubting Grier's ability to read the field and make plays off of schedule are being proved emphatically right through the first few preseason games. Grier threw two picks, lost a fumble, and was sacked six times. Grier's downfield accuracy is his best trait, but he needs to get a quicker trigger if he wants to stick as Cam Newton's backup.
3. Texans OT Tytus Howard
Make no mistake, the trade for Laremy Tunsil might not go down if they had more confidence in Howard or second round pick Max Scharping.