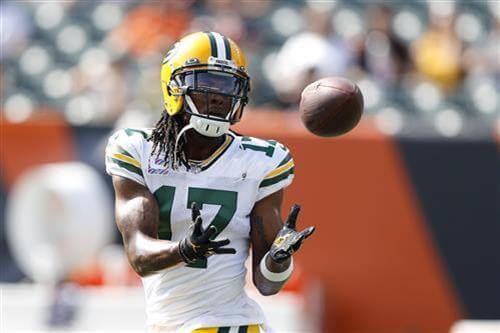 Davante Adams is the top NFL free agent in 2022 and the Green Bay Packers are at a crossroads. If Aaron Rodgers returns, Adams likely joins him. But with the increasing likelihood that Rodgers never suits up in a Packers' uniform again, things get more interesting.
Green Bay is an estimated $40 million over the 2022 NFL salary cap and there is no easy path to balancing the sheet. It makes a contract extension for Adams extremely unlikely and an impossibility if Rodgers announces his retirement or demands a trade this offseason.
With a long-term deal off the table, Green Bay is left with few options. It either lets Adams walk in free agency, recouping a third-round compensatory pick in the 2023 NFL Draft, or it applies a franchise tag worth more than $20 million guaranteed.
Based on reporting this offseason, the franchise tag is likely. At that point, if Rodgers is gone, a Davante Adams trade makes the most sense for everyone. Let's examine four potential sign-and-trade destinations.
Aaron Rodgers, Davante Adams traded to Denver Broncos
NFL reporter Peter King suggested a blockbuster scenario would at least be possible in 2022. The Broncos have the cap space to pull it off and the front office desperately wants to compete with the Kansas City Chiefs. A path towards accomplishing that could be done with two simple steps.
First, either hire Dan Quinn as head coach with Packers' quarterbacks coach Luke Getsy becoming offensive coordinator or name Nathaniel Hackett head coach. After that, call general manager Brian Gutekunst and figure out a league-altering trade.
Denver Broncos trade: 2022 DEN 1st, 2022 DEN 2nd, 2023 DEN 1st, WR Jerry Jeudy, TE Albert Okwuegbunam
Green Bay Packers trade: Aaron Rodgers, Davante Adams
It's essentially a rebuilder's starting kit for Green Bay. Jeudy, the 15th pick in the 2020 NFL Draft, instantly becomes the No. 1 receiver in Matt LaFleur's creative offense. He'll be joined by Albert Okwuegbunam, a 6-foot-5 tight end who is averaging 10.3 ypc through his first 18 games. Most importantly, the first-round picks allow Gutekunst to build a deeper roster at an affordable price.
Baltimore Ravens add a top weapon for Lamar Jackson
The Baltimore Ravens haven't done enough to help Lamar Jackson. If they want him to return to MVP-caliber form, he needs a star receiver. Making a huge move to land one is also the kind of decision that shows an organization is committed to its quarterback in contract negotiations.