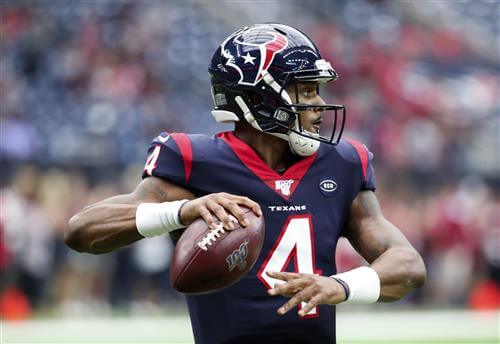 A Deshaun Watson trade from the Houston Texans will likely come here soon. Based on everything we're reading as it relates to the franchise quarterback, he's hellbent on never playing another snap for the team again.
It's a dramatic change from just a few months ago when Watson inked a four-year, $156 million extension just ahead of the 2020 season. Obviously, Watson's issues with the Texans' organization has played the largest role here.
If the 25-year-old quarterback is traded, there's only a handful of teams who would not be interested in his services. Despite some glowing issues on the offensive line and at the skill positions, Watson led the NFL with 4,823 passing yards this past season. He added 36 total touchdowns against just seven interceptions.
Locked in under contract through the 2025 season and set to count a mere $15.94 million against the cap in 2021, Watson would net Houston one of the most-lucrative bounties we have ever seen. It's in this that we look at the four-most realistic Deshaun Watson trade offers that could be headed the Texans' way here soon.
New York Jets offer the house in Deshaun Watson trade
Details: Jets offer up second overall pick in 2021 NFL Draft, 23rd overall pick in 2021 NFL Draft, second-round pick in 2022, second-round pick in 2023 and quarterback Sam Darnold
The Jets make obvious sense in this regard. Watson was upset that the Texans did not as much as interview Robert Saleh for their head coach job before he ended up in New Jersey. There's obviously some type of built-in relationship in that regard. Remember, Watson has a no-trade clause. He can, to an extent, dictate where he goes should Houston put the star quarterback on the block.
This Deshaun Watson trade includes Houston acquiring the No. 2 pick, which could prove to be valuable in a potential trade-down scenario should the team opt to go with Darnold as its starter in 2021. The Jets have already been linked to trade-down options short of this blockbuster coming to fruition.
Acquiring an additional first-round pick in 2021 would also help the Texans overcome their lack of draft capital stemming from the now-infamous trades Bill O'Brien made in his short tenure as their general manager. Second-round picks the next two years add to that war chest. This could be the best realistic trade offer Houston receives. In turn, the Jets get their franchise quarterback for up-and-coming offensive coordinator Mike LaFleur.
New England Patriots come calling
Details: Patriots offer up cornerback Stephon Gilmore, first-round picks in 2021, 2022 and 2023, second-round pick in 2022 and 2023
We know Bill Belichick is going to get involved in these talks. There's no way on God's green earth that he will pass up on the opportunity to acquire a proven 25-year-old franchise quarterback to a take over for Tom Brady after the disastrous one-year tenure of Cam Newton in New England.