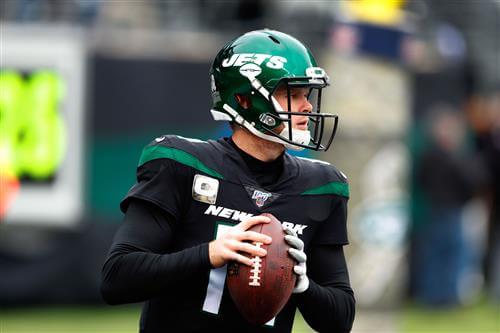 The New York Jets now sit at 0-11 following a brutal 20-3 loss to the Miami Dolphins in Week 12. The team's struggles under embattled head coach Adam Gase have led to some interesting Sam Darnold trade rumors.
For good reason. Much like everything he's touched during his brief tenure in New Jersey, Gase has pretty much ruined Darnold. That includes some horrific in-game coaching and a ridiculous decision to play the former No. 3 pick when he was clearly not 100% healthy earlier in the season.
Darnold, 23, entered Week 12's action having completed less than 59% of his passes for 1,045 yards with three touchdowns and six interceptions in six starts this season. Against Miami, the USC product completed just 16-of-27 passes for 197 yards with zero touchdowns and two interceptions.
The backdrop here is the likelihood that these Jets will ultimately select Clemson quarterback Trevor Lawrence No. 1 overall in the 2021 NFL Draft should they land that pick. This would mean a premature departure for Darnold in Jersey and a fresh start somewhere near.
It's in this that we look at the five likeliest Sam Darnold trade scenarios for once the 2020 NFL season comes to a conclusion.
Sam Darnold trade to the Atlanta Falcons
At 35 years old, Matt Ryan is still playing at a high level. He entered Week 12 having completed 66% of his passes for 2,978 yards with 15 touchdowns and seven interceptions in 10 starts this season.
Despite this, it's not yet known whether Ryan wants to take part in what will likely be a rebuild project under a new head coach in Atlanta. The team's recent success under interim head coach Raheem Morris following the firing of Dan Quinn does not change this.
Assuming Atlanta looks for an offensive-minded full-time head coach, it makes perfect sense to find Ryan's long-term heir-apparent. Darnold could have a ton of success learning behind Ryan before taking over under center. It just makes too much sense.