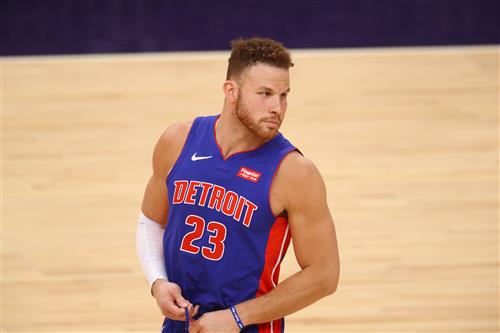 It has been a pretty steep decline for six-time Detroit Pistons All-Star forward Blake Griffin. Dealing with numerous recent injuries, one of the NBA's most-skilled big men looks like a shell of his former self.
Griffin, 31, is averaging what would be a career-low 12.3 points to go with 5.2 rebounds and 3.9 assists on a mere 37% from the field this season. It could soon lead to a divorce between Griffin and the Pistons, too.
ESPN's Adrian Wojnarowski reported on Monday that Griffin will be benched from the Pistons' lineup as the team sifts through potential trade and buyout options.
Given Griffin's bloated contract, a trade seems highly unlikely. He's set to earn $38.96 million in 2021-22, the final year of his contract.
In reality, Detroit would have to take on contracts and add draft pick enticement in order to move Griffin. Very few teams would be willing to do that. Instead, a buyout seems to be the likelier scenario. Either way, here's a look at the four-best fits for Blake Griffin, via either a trade or a buyout.
Blake Griffin traded to the Oklahoma City Thunder
We already know that Thunder front office head David Griffin has been all about stockpiling draft picks. A hypothetical Blake Griffin trade would add to the 33 picks this organization has over the next seven years. Yeah, that's not a typo. The idea would be to move the expiring contracts of Trevor Ariza and Mike Muscala as well as George Hill to Detroit in this trade.
In turn, the Pistons save about $29 million in salary next season and $11 million in salary remaining this year. They would then have to give up a first-round pick and multiple second-round selections in order to entice Oklahoma City. The question here is whether a rebuilding Pistons squad would rather take the financial hit of buying out Griffin rather than sending multiple picks in a trade. It's a tight rope to walk.