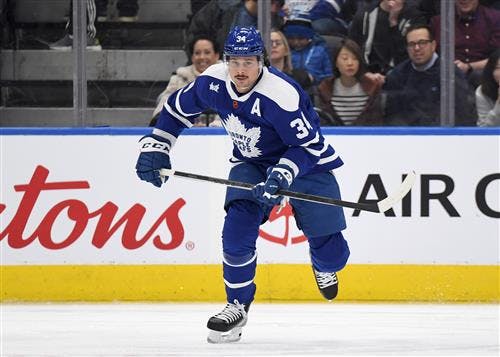 Before Maple Leaf fans come at me with pitchforks, let me preface this by saying it's highly doubtful Auston Matthews would ever get traded. Unless he requested a trade of course. Which is what I ultimately think will happen. Toronto seems like the type of organization that believes if they let Matthews get to free agency, they would still be his preferred destination. You can't see me, but I'm laughing at that notion.
I'm calling it, Matthews will request a trade from Toronto the final year of his contract. Toronto needs to make a move before then. He does have a full no-move clause that comes into effect the final year, which is why Leafs GM Kyle Dubas should start to consider moving the goal-scoring superstar sooner, rather than later. Not that his trade value would truly diminish. But the longer they wait their core will eventually move on as well. The time is now! Or at least before the NMC begins.
When looking at the Leafs organization from top to bottom, they feel like winners. The ownership, management, coaching, and roster, individually they all do a fantastic job. But together, they're a disaster. The way I see it, lasagna is delicious and so is black forest cake. Separately. If you were to mix them together…I shudder at the thought of it. Picture that meal and dessert together when you think about the Toronto Maple Leafs.
Dubas shouldn't and probably isn't worrying about job security. Head coach Sheldon Keefe seems to have all the support in the world. The Leafs turned a rough start around and are pretty hot at the moment. Outside of Leaf nation, maybe some inside, no one sees them as a Stanley Cup contender. However, imagine the trade package Matthews could bring back.
Since he came into the league, he's been dominant. No one has scored more goals than him. Ovechkin has three goals less, but in 28 less games. With forty-seven game winning goals, I'd call that clutch. He's super underrated in his 2-way game, strong in the face-off circle, and in my opinion is a top-3 player in the NHL. Only thing I don't like is his feisty side. Gives me the vibe of the little brother who hits you, but when you hit them back, runs and tells your parents.
Matthews is a generational talent that teams would trade their whole roster for. The Leafs could add pieces to complete the puzzle to bring Lord Stanley back to Toronto.
With the salary cap likely going up in the NHL, I won't let cap hits factor into these trade proposals. Let's pretend there is no cap hit. I miss those days. Also, only one other piece will be moved in each deal from Toronto with Matthews. Here's three trades the Maple Leafs should consider:
Trade #1-
Anaheim Ducks receive- Auston Matthews, Pierre Engvall
Toronto Maple Leafs receive- Troy Terry, Max Comtois, Cam Fowler, Jamie Drysdale, and John Gibson
Terry had a breakout season last year for the Ducks. He's shown he can put the puck in the net. Comtois has a gritty, physical element to his game that I feel Engvall should have. Fowler has been a consistent guy for the Ducks on the blueline. Doesn't play a flashy game but doesn't make many mistakes. If you thought Terry was the big name coming back in this deal, you're wrong. It's Drysdale. He did suffer an injury that will keep him out for the year but this young rearguard plays a silky smooth game. At only 20 years old, he has the chops to be a top pairing D-man for years. Gibson hasn't been the same dominant and dependable netminder for the last few seasons. I don't believe that's on him. I think the Ducks play a style of game that leaves him vulnerable. He could get back to Vezina numbers in Toronto.
Trade #2-
Vancouver Canucks receive- Auston Matthews, Alexander Kerfoot
Toronto Maple Leafs receive- Bo Horvat, Brock Boeser, Tanner Pearson, Oliver Ekman-Larsson, and Luke Schenn
Horvat and Boeser have seen their names in trade rumors forever. Bo may have some parts of his game that hinders him at times, but we've seen a resurgence from him. He's scoring goals and taking care of the puck on the defensive side. Boeser is known for his goal scoring touch, he just has a little trouble staying healthy. It wouldn't shock me to see 40 goals from him in a full season. Pearson is the player you want on your side. He works hard, he plays hard. He'll give you more consistency than Kerfoot. It's true that Ekman-Larsson's elite offensive days are behind him. Last season was rough. The numbers don't jump at you but watch him play, he does everything you'd want a defender to do. He plays the game smart and isn't a liability. And Luke Schenn. Bring him back to where it all started.
Trade #3-
Los Angeles Kings receive- Auston Matthews, Timothy Liljegren
Toronto Maple Leafs receive- Quinton Byfield, Alex Iafallo, Adrian Kempe, Brandt Clarke, and Drew Doughty
This is the trade I'd like to see. With Byfield's skill and size, the Kings aren't putting him in a position to thrive. Bring him to Toronto, watch him raise his game to all-star levels. Iafallo isn't a household name but his style of hockey would keep Leafs fans on their feet. Easily could be a 25 goal scorer in the blue and white. Another guy that loves to score goals is Kempe. He has a 2-way element to his game that creates space for his teammates. The Kings have a logjam on their blueline, Clarke is a casualty of that. Make no mistake, he has superb vision, plays a strong defensive game that allows him to chip in offensively. And finally, Mr. Drew Doughty. It's not his offensive ability that will help get the Leafs to the Stanley Cup Finals. It's his presence, his personality, and his experience. If the Leafs want to win a cup in the next 3 seasons, this is the deal they need to make.