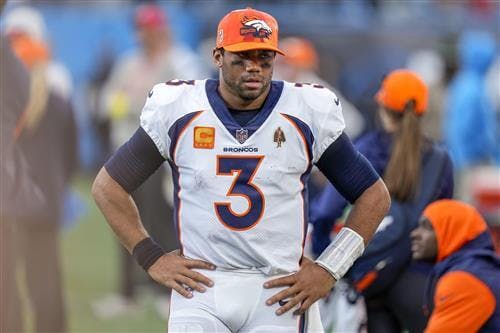 Guess what Broncos fans, it's time Denver starts thinking about trading Russell Wilson. That's not an overreaction, that's the reality of the issue at hand. And I'm sure there will be very little resistance from Broncos' Country!
Here I thought Nathaniel Hackett's play calling was the concern. I mean, it is quite atrocious. But Russ is the real problem for the Broncos. Obviously, Hackett is going to get fired. Wouldn't shock me if that happens within hours of writing this. And he deserves to be fired, no one is disputing that.
What is infuriating is that the Broncos will then try to bring in someone that compliments Wilson's style of play. Isn't he supposed to be a versatile QB? You paid the man all this money, the least he can do is adapt to whatever shitty plays he's given. Wilson still struggled when Hackett gave up the play-calling duties to QB coach Klint Kubiak, shouldn't that tell you something?
Sure, the Broncos have dealt with major injuries with 26.4% of their cap on the injured list, highest in the league. But the Los Angeles Chargers and Washington Commanders are second and third on that list and they aren't doing too shabby.
By now you've seen the interaction between Wilson and DL Mike Purcell. Purcell's emotions pumped me up, I was ready to get on the field and destroy my 34 year old, arthritis filled knees for the Broncos. I'm not sure Russ even blinked. Barely reacted. He lacks the passion, the charisma, the fire to lead this Broncos team out of the gutter. This season is a wash.
We can let Russ cook like someone who has had one too many beers and is throwing shredded cheese on some nachos and firing them into the microwave. When the season is over, Broncos management should seriously consider trading Wilson, pay another team to take on his huge contract, because Russ isn't it.
Here's three trades to move Russell Wilson out of Denver. Let's Ride:
First Trade-
Detroit Lions receive: QB Russell Wilson, cash
Denver Broncos receive: QB Jared Goff, RB D'Andre Swift, 2023 Lions 1st rd. pick(from the LA Rams), 2024 3rd pick
Is this an even trade? Heck no, after the season Wilson has had, the Lions come away losers. They're probably drafting a QB with their own first rd. pick anyways. But maybe they believe Wilson can turn it around and shore up their defense by moving that pick for multiple picks? I happen to think Goff is an adequate QB that would accumulate yards and TD's with the plethora of offensive weapons at his disposal in Denver.
Second Trade-
Green Bay Packers receive: QB Russell Wilson
Denver Broncos receive: QB Aaron Rodgers, TE Robert Tonyan, and 2023 2nd rd. pick
When the Broncos traded for Wilson, like everyone, I thought Super Bowl contender. But still, he wasn't the guy I felt the Broncos should have brought in. Rodgers has always been able to be successful with very limited resources throughout his career. That's not a knock on Davante Adams, Randall Cobb, Jordy Nelson, or Greg Jennings. Besides Adams, Rodgers elevated the other WR's abilities. If you don't believe me, check the numbers on the other guys after they left Green Bay. I can only imagine what he could do with Courtland Sutton, Jerry Jeudy, Tim Patrick, and KJ Hamler as his options. Rodgers could easily reach MVP form and catapult the Broncos to the promise land.
Third Trade-
Seattle Seahawks receive: QB Russell Wilson
Denver Broncos receive: QB Geno Smith
Now wouldn't this be something? Maybe Russ realizes how good he had it in Seattle and that the grass is not always greener. This would be a beautiful disaster to watch unfold. I'll let Seahawks fans decide if they would ever take Wilson back.