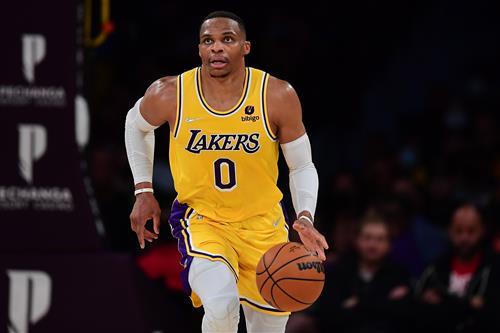 The Los Angeles Lakers haven't had the best season this year, and many have viewed making a trade as a potential solution. A lot of people have criticized Russell Westbrook's fit with the team in particular, so that has led a lot of people to believe that a Russell Westbrook trade is the solution to their problems.
With that being said, Russell Westbrook is still a good player, even if there are concerns about how he works with the rest of the roster. The Los Angeles Lakers shouldn't just trade him for subpar trade offers. Here are some offers that the Lakers probably wouldn't accept in return for the point guard.
3. Jerami Grant and Kelly Olynyk
This is a trade package that could potentially have value for the Los Angeles Lakers. Jerami Grant is a two-way forward that could provide benefits on both ends of the floor, while Kelly Olynyk is a floor-spacing big man that can provide shooting to help the Lakers' slashers like LeBron James. On paper, this could potentially be a good Russell Westbrook trade.
However, there are definitely some concerns with this. Both Jerami Grant and Kelly Olynyk are currently injured, and when they return, the team will need to integrate them into their gameplan and build chemistry with them. It would definitely be a difficult task, especially given the fact that we're already halfway through the season.
If this is the trade package for Russell Westbrook, then perhaps it would be better to be patient with him and let him find his footing on the Los Angeles Lakers. At the end of the day, Russell Westbrook is still a former MVP and an impact player, and he's already been on the squad for half the season. Rolling with him and hoping that he, LeBron James, and Anthony Davis figure things out is a good option as any.