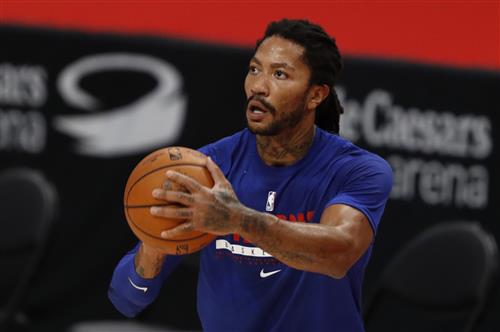 The Los Angeles Lakers are rolling to start the season with a 10-4 record, which is the best record in the NBA. Though the roster seems pretty set right now, they could look to make some upgrades. The Brooklyn Nets just pulled off a blockbuster deal to land James Harden. If that trade works out, they could be really hard to beat in the NBA Finals.
The Lakers should at least be attempting to figure out how they can upgrade their roster. Zach Buckley of Bleacher Report believes Los Angeles should target a guard before the trade deadline and listed Derrick Rose as a fit:
Rose has been slow out of the starting block this season, which might be a yellow (or red) light for some given his long injury history. But maybe this opens the possibility of a buy-low opportunity. Or perhaps the scoring point guard will have awakened from this early funk by the time the March 25 deadline gets here.
Either way, L.A. should have an offer ready when Rose inevitably hits the trade market.
Rose has been a rumored target for the Lakers since last season. Right now, he's only averaging 13.9 points a game compared to 18+ over the last two seasons. With the offseason addition of Dennis Schroder, Rose doesn't fit that much of a need. Perhaps if he was a better 3-point shooter, it might be worth making a deal. However, his career 30% shooting from the beyond the arc shouldn't be all that appealing to the Lakers.