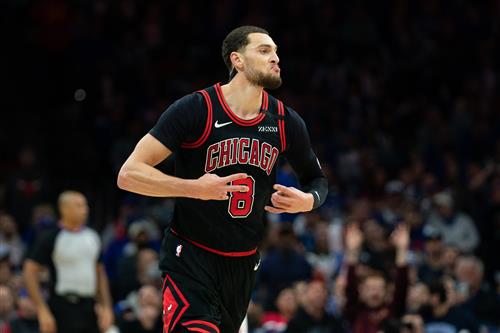 The Chicago Bulls' rebuild continues to limp along despite a bevy of talented youngsters like Zach LaVine present. In all likelihood, the grouping of LaVine, Coby White, Patrick Williams, Wendell Carter Jr., and Lauri Markkanen aren't all going to be together next season given their respective contract situations and the organization looking to take the next step.
LaVine is a free agent after the 2021-22 NBA season and is one of the most productive guards in the sport; he's averaging an astounding 27.4 points per game this season. He's a legitimate candidate to be dealt if the Bulls don't turn a corner.
In the scenario that he's made available before the NBA trade deadline, which teams could trade for Zach LaVine?
3. Denver Nuggets
Nuggets receive: Zach LaVine
Bulls receive: Gary Harris, Zeke Nnaji, Nuggets' 2021 first-round draft pick, and Nuggets' 2024 first-round draft pick
It has become a frequent occurrence in the NBA to see a contender push for a third star or alpha-dog player (the Brooklyn Nets recently acquired James Harden to team up with Kevin Durant and Kyrie Irving). LaVine would be the Nuggets' third prolific player.
Now, LaVine would have the ball in his hands a little less with the Nuggets offense revolving around Nikola Jokic and Jamal Murray. However, such a role change could make LaVine even more dangerous. He would play off the ball more, have more open looks from distance (LaVine is a career 37.6 percent shooter from beyond the arc), and would serve as the Nuggets' third source of offense. Heck, he could come off the bench and provide a scoring jolt.
You can't have enough star power and depth in the Western Conference. Even though the Nuggets are already a contender to win the NBA Finals, LaVine would make their offense more dynamic. You wouldn't be able to squarely focus on any one player because there would be four legitimate scorers both off the dribble and from distance (Jokic, Murray, LaVine, and Michael Porter Jr.).
From Chicago's perspective, Coby White would get the keys to their offense, Patrick Williams becomes a larger part of said operation, and Gary Harris would have the chance to get his career back on track in a substantial role (Harris has been hit by injuries recently and fell down the offensive totem pole). In doing so, they corral a talented young big man in Nnaji and a pair of first rounders.