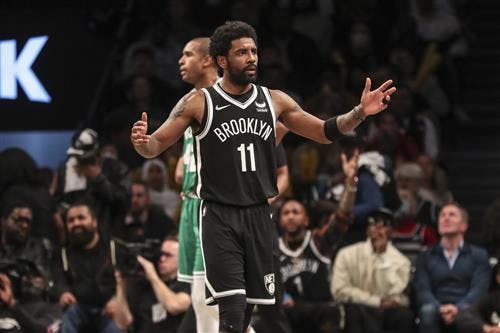 Kyrie Irving's name has regularly been brought up in trade rumors this summer. Ever since Kevin Durant requested a trade from the Brooklyn Nets, there have been multiple reports that indicated that the team has also engaged with rival franchises about trades for Kyrie Irving.
The team that Kyrie Irving has most frequently been linked to is the Los Angeles Lakers. However, a recent report revealed that the Brooklyn Nets are not interested in the Lakers' offer, despite the fact that the Los Angeles Lakers are now willing to give up two first-round picks for the point guard.
Perhaps this is the time for some other teams to try and get in the mix to try and trade for Kyrie Irving. He is still one of the best point guards in the league, and adding him would immediately raise any team's talent level. Here are 3 teams that could potentially get Kyrie Irving and end up shocking the Los Angeles Lakers.
3. New Orleans Pelicans
New Orleans Pelicans Receive: Kyrie Irving
Brooklyn Nets Receive: CJ McCollum, Kira Lewis, Jaxson Hayes, 2023 First-Round Pick
The New Orleans Pelicans will be entering win-now mode once Zion Williamson returns next season. They made the playoffs without him this past season under Brandon Ingram's leadership, and with an All-Star level talent being added to the roster, they should in theory be a dangerous team.
Trading for Kyrie Irving wouldn't necessarily require a lot from the team since he is on an expiring contract, and thus the Brooklyn Nets are likely prioritizing getting value in return. In terms of players, the Pelicans would have to give up veteran CJ McCollum in this scenario, as well as two decent prospects in Kira Lewis Jr. and Jaxson Hayes. There would be one first-round pick involved as draft compensation.
This deal would give the Brooklyn Nets some young players to develop, as well as a good veteran leader in CJ McCollum. McCollum's deal expires in 2024, which means his expiring contract will be a valuable trade piece during the 2023-24 season.