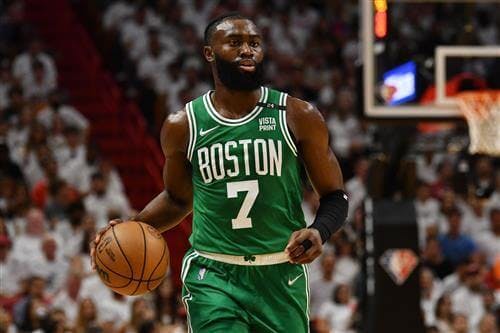 The Boston Celtics fell just short of winning the 18th NBA championship in franchise history in June, losing to the Golden State Warriors in six games. After getting that close, no one would have been surprised if the Celtics decided to run things back for the most part with a few changes on the fringes.
Earlier in the offseason, that looked to be the route they were taking. Danilo Gallinari was signed following his trade from the Atlanta Hawks to the San Antonio Spurs, who released him right away. After that, the point guard position was bolstered with the acquisition of Malcolm Brogdon from the Indiana Pacers.
Boston already had a strong roster, but both players will fill some weaknesses. Gallinari provides insurance in the frontcourt at the power forward spot and is a reliable scorer off the bench. Brogdon will complement Marcus Smart at the point guard position, providing size and switchability, which was lacking at times in the playoffs.
Many people thought that would be it for the Celtics, but they have since emerged as a top suitor for Kevin Durant. At the heart of those trade discussions is Jaylen Brown.
Trade rumors leaking always makes for difficult situations for teams. There will likely be some relationship mending needed between Brown and the Celtics as this could have an impact on them long-term.
If the Celtics were going to make a splash, it was always assumed Brown would be part of the deal. Knowing that the team is open to moving him, Brown could also start planning his exit from the franchise as he is set to become a free agent in 2024.
If he wants to leave Boston, he will have no shortage of suitors. Here are three teams that Brown should consider joining in the future:
Houston Rockets
Forecasting the landscape of the league in two years when Jaylen Brown will be a free agent isn't easy. If Brown is looking for a team that he could be the No. 1 option on that is ascending, the Houston Rockets will be worth keeping an eye on.
The Rockets have a ton of young, high-upside players on the roster right now. No. 2 overall pick in the 2021 NBA Draft Jalen Green is the crown jewel of the group and they have high hopes for this year's No. 3 overall pick Jabari Smith Jr.
If Eric Gordon is traded, the oldest rotation player could very well be Jae'Sean Tate, who is only 26. Brown, who will be a free agent at 27 years old, would still fit the Houston Rockets' timeline and could be the final piece to them developing into true contenders.
If the young guys on the team continue developing, 2024 should be right when the Houston Rockets are ready to take that next step. They will get more competitive this year and could challenge for at least a spot in the NBA Play-In Tournament the seasons after that.