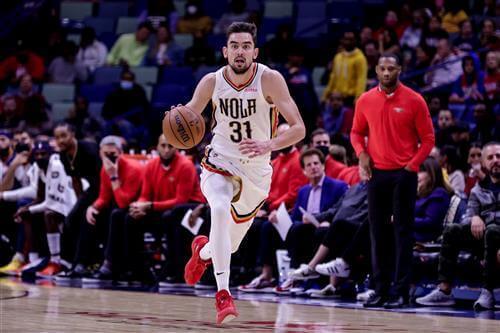 New York Knicks head coach Tom Thibodeau made a big roster decision on Monday as he told reporters that he was removing former NBA All-Star point guard Kemba Walker from not only the starting lineup, but from the team's entire rotation as a whole.
Walker signed a two-year, roughly $18M deal with New York in the offseason to be their starting point guard, but things have not worked out early on in the year for the Knicks. They find themselves 11-9 and really struggling to get back to where they were defensively a year ago.
Plus, Walker's production really has been nonexistent at times, as he has scored in double-figures just three times in his last eleven games. "It's a tough decision to make, but you always have to do what you think is best for the team," Thibodeau told reporters on Monday.
"I view Kemba as a starter, and so it'd be tough to play three small guards together. I gave it consideration, and I've got great respect for who Kemba is as a person and all he's accomplished in this league. But I have to do what I think is best for the team."
Now 11-year veteran Alec Burks is in the starting-unit for the Knicks and will start in-place of Kemba Walker moving forward. Burks has outplayed Walker off-the-bench, averaging 16.7 points per game and shooting 44.6% from the floor over his last seven games, so it makes sense for the Knicks to want to try something new.
Kemba Walker is averaging career-lows in points (11.7), rebounds (2.6), assists (3.1), field goals attempted per game (9.8) and has only played close to 25 minutes per game this season. While he is shooting 42.9% from the floor and 41.3% from three-point range, Walker just does not look like his old All-Star self in New York, hence why Derrick Rose, Immanuel Quickley and Alec Burks have bumped him down in the rotation.
There are no indications on what the future holds for Kemba Walker at this time and if he will remain in New York, but if this team begins to find success without him on the court, he may not last very long with the Knicks.
The trade deadline is silently approaching and while there is still a lot of time between now and February 10, teams could begin to inquire about whether or not Kemba Walker is available via trade.
Again, the Knicks may want to keep Kemba and fit him into another role outside of the starting unit, but with him out of the rotation, here are three replacements the Knicks should consider in addition to Alec Burks entering the starting lineup.
Derrick Rose & Immanuel Quickley
Without making a trade, the two obvious answers for who can replace Kemba Walker in the Knicks' rotation is former league MVP Derrick Rose and second-year guard Immanuel Quickley. One of the biggest advantages the Knicks have over other teams in the league is their depth and their backcourt has played great this year.
Both Rose and Quickley have been key contributors off-the-bench for the Knicks this season and each player brings something different to the table in regards to how they can help New York snap out of their recent losing skid.
Derrick Rose has played in 18 games this season and is averaging 12.2 points, 2.9 rebounds, 3.7 assists and is shooting 45.1% from the floor, 41.2% from three-point range.