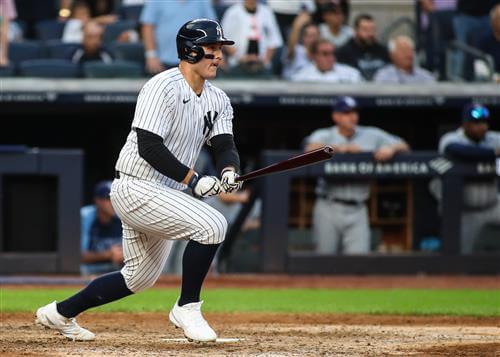 The 2021 MLB offseason has gotten off to a quick start and quite a few big names have already switched teams. Most recently, Max Scherzer signed with the New York Mets and Javier Baez agreed to a huge deal with the Detroit Tigers. However, there are still quite a few elite players still available on the MLB free agency market, including Anthony Rizzo, who has a lot of possible destinations.
The New York Yankees free agent first baseman is one of the top players left for teams to sign, but his market has been relatively quiet thus far.
Rizzo has been one of the league's biggest superstars for years. He is known for being a slugger and a gold glove first baseman. He fared well with the Yankees following his trade from the team he won a World Series with, the Chicago Cubs.
In 92 games with the Cubs last season before the trade, Rizzo batted .248 to go along with 14 home runs and 40 RBI. Following his trade, Rizzo played in 49 games with the Yankees and compiled a .249 batting average to go along with eight home runs and 21 RBI. Those numbers show how valuable Rizzo can be, even if they weren't his best.
All of that being said, let's dive in and take a look at three potential intriguing free agency destinations left for Rizzo as we move later into the free agency market.
3. Los Angeles Dodgers
Let's start with the Dodgers, who could offer Rizzo a shorter-term deal instead of going long-term. They could also go long-term with it, but Rizzo may want some freedom to get another big deal in a couple of years. Los Angeles is losing quite a bit of talent in free agency and adding a bat and defensive talent like Rizzo could make some sense.
Rizzo would be signing with the Dodgers on a lucrative deal, whether that be short or long-term, but would also be joining a legitimate championship contender. Even though the Dodgers are losing talent in free agency, they are still going to be a team to be reckoned with in the National League.