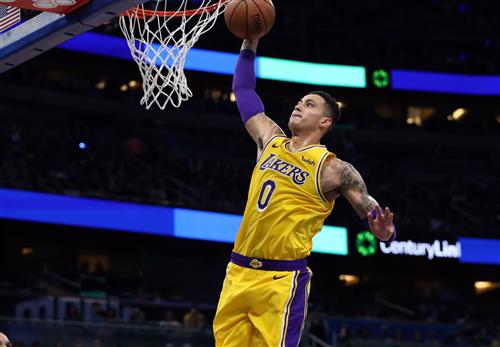 A new season starts and Kyle Kuzma is once again in trade talks. The Lakers need to set up the best possible team to win another ring as long as LeBron James is the best player in the world, and that makes everyone outside of The King and Anthony Davis expendable. The Lakers made the first big move of the offseason by trading Danny Green and the No. 28 overall pick for Dennis Schroder. They also made a play for 2-way star Jrue Holiday but the Pelicans rejected the offer of Kyle Kuzma, Danny Green, and the No. 28 overall pick before the Schroder deal.
That means Kuzma is still available and the Lakers must move him to get a better piece for their squad. The Milwaukee Bucks snatched Jrue Holiday and Bogdan Bogdanovic, while other contending teams will certainly be more active in the trade market to boost their title chances. Kyle Kuzma had a down year in 2020 by averaging 12.8 PPG on 43.6% FG, but he still has value as a young forward with a very high ceiling. Here are the 3 best possible trades for the Los Angeles Lakers and Kyle Kuzma.
3. C.J. McCollum
2019-2020 Statistics: 22.2 PPG, 4.2 RPG, 4.4 APG, 0.8 SPG, 37.9% 3-PT FG
Trade Package: Kyle Kuzma, Kentavious Caldwell-Pope (Sign and Trade), Avery Bradley, Quinn Cook for C.J. McCollum
McCollum doesn't get enough credit as the scoring sidekick to Damian Lillard on the Portland Trail Blazers. He is a professional scorer and one of the most consistent offensive players in the league who can get 20 points at the minimum every night. The Lakers obviously have Anthony Davis and LeBron James on offense, but McCollum adds a third piece that puts the Lakers ahead of the pack for sure.