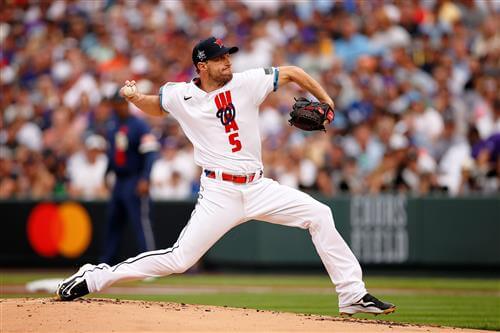 With the MLB Trade Deadline looming, many teams across MLB are about to find out if they will buy, sell, or stay as is on July 31. Many names have been rumored to potentially become available and perhaps none bigger than Max Scherzer.
Scherzer is 37-years-old and in the last year of his contract. The Washington Nationals are currently 42-47 which isn't great by and stretch of the imagination. However, they're only 6 games back of the Mets in the NL East.
The first order of business for the Nationals is to determine how they will approach the MLB Trade Deadline. If they sell, these are the three best trade destinations for Max Scherzer, ranked.
3.) Los Angeles Dodgers
If there's a big name available at the deadline, there's almost a certainty that the Los Angeles Dodgers will pop up in some form or fashion. It just so happens they could really use some starting pitching help at the moment too.
Dustin May had Tommy John surgery back in May, Clayton Kershaw is currently on the shelf with forearm inflammation and there's a strong possibility Trevor Bauer doesn't pitch again this year. That leaves the Dodgers with Walker Buehler and Julio Urias as really the only two steady starters in the rotation at the moment with other pieces like David Price filling the gaps.
Enter Max Scherzer.
It's possible, based off Scott Boras' (Scherzer's agent) comments back in June, that the Nationals ace would seek an extension from any team that tries to trade for him. At 37-years-old, some teams might be hesitant to offer that olive branch but who knows.