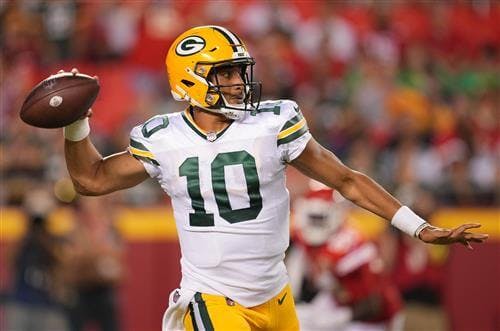 The 2022 NFL season is finally upon us, football fans! The Los Angeles Rams and Buffalo Bills will kick off the campaign Thursday at SoFi Stadium, and from there, it will be full speed ahead.
Naturally, fans and players will be focused on the games that are in front of them. However, team decision-makers always have one eye on the future. Though the preseason and 53-player roster cuts are complete, player movement will continue.
This includes the trade market, at least until this year's Nov. 1 deadline. Each week until then, we'll examine the top 10 trade targets based on each team's on-field and salary-cap situations, player roles, any relevant buzz and just a little bit of common sense.
We'll also dive into prime landing spots based on factors like team needs, positional value and cap/contract situations.
The Selection Process
To create our top 10 list, we have gathered 15 names that are likely to be on the trade block based on the aforementioned rankings criteria.
The San Francisco 49ers, for example, restructured Jimmy Garoppolo's contract in order to keep him as the backup quarterback for Trey Lance this season. However, logic suggests that the team only did this because it couldn't find a trade partner.
Once we established the top 15, we ranked players on their talent level, positional value and their likelihood of being dealt. For this exercise, we're looking at both player value and obtainability.
This week's honorable mentions, in no particular order, are:
Mason Rudolph, QB, Pittsburgh Steelers
D'Ernest Johnson, RB, Cleveland Browns
Alexander Mattison, RB, Minnesota Vikings
Deion Jones, LB, Atlanta Falcons
Jordan Love, QB, Green Bay Packers
10. Sidney Jones, CB, Seattle Seahawks
Seattle Seahawks cornerback Sidney Jones falls firmly into the "logic" category. He's a good player on a one-year, $3.6 million deal and with a team that isn't likely to contend in 2022.
"We've been averaging 10 wins a year for the last 20-something years," head coach Pete Carroll recently said of Seattle and his time at USC, per ESPN's Brady Henderson. "... I don't see any reason my expectations should change at all."
Sorry, Pete, but we do. This is a team that won seven games with Russell Wilson under center for most of 2021. With Wilson gone after being traded to the Denver Broncos, Seattle is more likely to chase the No. 1 pick than a playoff berth.
Jones, who allowed an opposing passer rating of only 84.3 in coverage last season, would make for a tremendous in-season trade chip.
There is no shortage of cornerback-needy teams, but two should be particularly high on Jones.
The first is the Cincinnati Bengals, who reached Super Bowl LVI despite having the league's 26th-ranked pass defense. Jones would provide an immediate boost to a unit that has largely been built by acquiring veterans.
The New England Patriots should also be in on Jones. New England lost star corner J.C. Jackson in free agency and released Malcolm Butler with an injury settlement. If the Patriots hope to remain in playoff contention this season, they could use another talented corner.
Best Fits: Cincinnati Bengals, New England Patriots
9. Nelson Agholor, WR, New England Patriots
While there hasn't been any real buzz about the Patriots trying to move wideout Nelson Agholor, there has been some speculation.
"A source close to the situation expects one of the Patriots' veteran wide receivers to be traded or released, and that source believes Agholor is the prime candidate," Doug Kyed of Pro Football Focus wrote in early August.
It would make sense. Agholor had just 473 yards and three touchdowns last season, and trading him would clear at least $4.9 million off the cap—more if New England could convince a team to take on some of the dead money.
With second-round pick Tyquan Thornton (collarbone) on injured reserve, though, New England probably wouldn't actively shop Agholor until the rookie is healthy.
The Atlanta Falcons and Green Bay Packers should be interested in Agholor if and when the price is right. They each have questionable receiver depth, and both were interested in acquiring Laviska Shenault Jr. from the Jacksonville Jaguars before he was dealt to the Carolina Panthers, according to ESPN's Dan Graziano.
Agholor, who logged 896 yards and eight touchdowns with the Las Vegas Raiders in 2020, could provide a spark to either team's offense.
Best Fits: Atlanta Falcons, Green Bay Packers