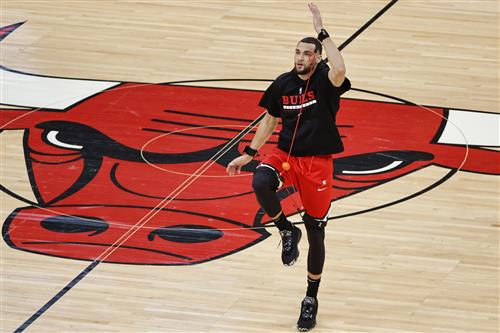 NBA trade deadline week has arrived.
Prepare to be shocked.
No, not necessarily by the actual activity itself, though as big fans of frenzied arms races in the hoops world, we're certainly hoping that's the case. Instead, the surprises come in the form of four hypothetical swaps that, should they come together, could rattle the entire Association.
Savor them. Celebrate them. Sprint to the comments section and skewer them to pieces.
First and foremost, though, let them surprise you with the who, where and why behind each exchange.
Clippers Add Oladipo, Rockets Gain More Assets
Los Angeles Clippers receive: Victor Oladipo and Sterling Brown
Houston Rockets receive: Patrick Beverley, Luke Kennard, Terance Mann, Mfiondu Kabengele, 2023 second-round pick, 2023 second-round pick (via POR) and 2024 second-round pick (via DET)
L.A.'s need for extra playmakers has been discussed to the point of almost becoming cliched. And with the Clippers perched up at fifth in offensive efficiency, the front office might disagree with the scope of this issue and the urgency to address it.
To that end, L.A. is asking Kawhi Leonard and Paul George to do the heaviest lifting as scorers and perimeter stoppers. Saddling them both with primary playmaking duties on top of that and running short on secondary shot-creators seems like a recipe for running them out of gas at some point.
Victor Oladipo could offer some needed relief. He might still be searching for his shooting efficiency after a 2019 torn quadriceps tendon, but he remains a clever ball-mover and a pesky point-of-attack defender. Both qualities should endear him to the Clippers' stars, who should welcome the opportunity to lighten their loads in both categories.
Not to mention, Oladipo should be readily available as Houston works its way through the post-James Harden rebuild. Once the Rockets get down to a reasonable price point—they comically asked the Golden State Warriors for James Wiseman or the top-three protected 2021 first-rounder coming from the Minnesota Timberwolves, per Connor Letourneau of the San Francisco Chronicle—the Clippers should be ready to pounce.
Landing Sterling Brown, a 26-year-old wing who can hold his own defensively and make open threes, would give L.A. another chess piece to help in its championship chase.
For Houston, this would be accepting the reality of trading a fallen star who doesn't have time to repair his value ahead of unrestricted free agency. If the Rockets are being realistic, this might be enough to pull the trigger.
Terance Mann smartly uses his length and athleticism at both ends. Luke Kennard can make shots and create them for others. Mfiondu Kabengele is the kind of no-cost flier a rebuilding team should be taking. Throw in three second-round picks and Patrick Beverley as either a culture-setting veteran or a future trade chip, and Houston would be getting a solid haul for two free-agents-to-be who might not be part of the long-term plans.
Nuggets Add an All-Star, Bulls Get Their Building Block
Denver Nuggets receive: Zach LaVine and Lauri Markkanen
Chicago Bulls receive: Michael Porter Jr., Gary Harris, Bol Bol and 2021 first-round pick (top-10 protected)
Recently, The Athletic's Sam Vecenie, Seth Partnow and Danny Leroux assembled a 29-player trade deadline big board to rank all of swap season's possible needle-movers. Zach LaVine and Michael Porter Jr. were both left off of the list.
As they should be. At this point, it's hard to even find wisps of trade smoke around either player. And yet, they don't quite feel untouchable. Rather, it seems more a case of teams wouldn't offer what it would take to get either away from his current club.