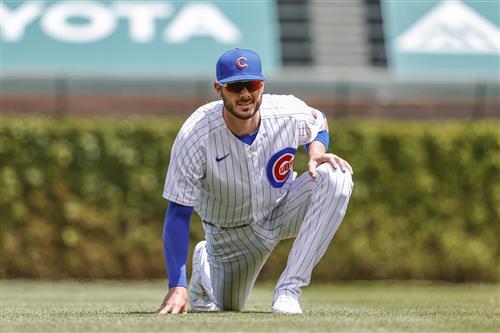 Reports of Kris Bryant's demise have proven premature. The 2016 National League MVP is playing like, well, an MVP again here in 2021. He's healthy, he's adjusted to the high fastball and he boasts a fantastic .306/.391/.658 slash and entered Friday with a career-best 194 OPS+.
But Bryant's in his walk year on a Cubs team that traded Yu Darvish over the winter and has struggled to gain traction, to date. Little wonder, then, that when MLB.com reporter Mark Feinsand recently polled executives on the stars most likely to be dealt this summer, Bryant finished second behind Rockies shortstop Trevor Story.
It's too early for the Cubs to trade Bryant, but it's not too early to speculate on where he could land. On the one hand, his market will be limited to teams willing to take on the remainder of Bryant's $19.5 million salary and surrender quality young talent. On the other hand, Bryant's big stick and positional flexibility (he's played not just his native third base but all three outfield positions and even some first base) create a wide array of teams who could conceivably slot him in.
Here are 13 fun fits for Bryant, broken into categories.
UNLIKELY … BUT INTRIGUING
Dodgers
The Dodgers already have a stash of stars, and, having already blown past the luxury tax threshold to sign Trevor Bauer, it's not totally out of the realm of possibility that they could take on Bryant's remaining salary and add yet another protective layer on their pennant push. L.A.'s offense has underperformed thus far, and the prolonged absence of Cody Bellinger, as well as other injury issues, has affected the outfield and depth.
So sure, a conversation could conceivably be had here. It just seems far more likely that the Dodgers will target bullpen and bench help in the midseason market.
Cleveland
The club simply doesn't appear prone toward a rental splash at this stage of the game, so Cleveland belongs in this category.
But purely in baseball terms, yes, this is an obvious fit. Though Cleveland has José Ramírez entrenched at third base, the club's production in the outfield and at first base has, rather unsurprisingly, been ugly. So if Cleveland were to remain in the AL Central mix on the might of its pitching staff, it would be feasible for a team with the lowest payroll in the game and a bunch of 21-and-under talent on the farm to swing an impact acquisition like this. Just don't bet on it actually happening.
Yankees
An underperforming and injury-prone lineup has room for Bryant's big bat, which would significantly boost the odds for this World-Series-or-bust bunch. With Gio Urshela at third, the best fit for Bryant would be left field, where Clint Frazier and Brett Gardner just haven't gotten it done. The Yanks' left field fWAR (minus-0.6) is the second worst in MLB, behind Texas.
For now, though, pitching looks to be the Yankees' biggest concern in the midseason trade market, and this club has stopped short of making the big summer splash, even when the need is glaring. So don't hold your breath on this one, either.
Mariners
Over the winter, I urged the Mariners to make some go-for-it moves in a winnable AL West. They, uh, didn't listen.
But the division still looks winnable, and the Mariners are outperforming expectations in the early going. If it continues -- and yes, that's very much an "if" at the moment -- then here's a way to get them over the hump and end the longest postseason drought in the sport. Left field and first base have been trouble spots for this lineup, and Jerry Dipoto loves to make a deal (just probably not this deal).
Royals
The Royals are contending in the AL Central ahead of everybody's schedule -- except their own. Making a midseason splash of this magnitude would be unconventional and very much unexpected, but the Royals have long operated by their own playbook, and Dayton Moore has not shied away from the big splash in the past.
Jorge Soler, who has had the most plate appearances for the Royals at both right field and designated hitter, and third baseman Hunter Dozier are both off to slow starts offensively, so there are potentially at-bats to be had here. The injury issues affecting the White Sox and the sluggish start by the Twins have created opportunity in the AL Central.