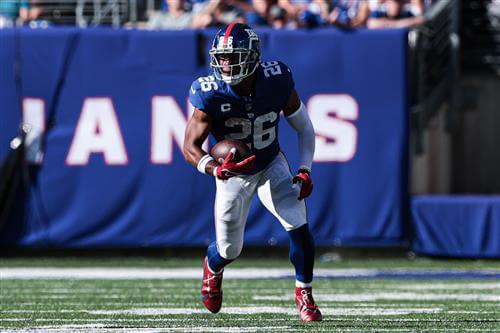 Week 6 of the 2021 NFL season is about to kickoff, meaning we're almost to the NFL trade deadline in early November. Contenders are emerging and that has left two categories of teams. Either expectations are being met and it's time to reinforce the roster, or there's panic setting in as the on-field results haven't been as positive.
Last year, we saw several quality veterans swap teams for reasonable draft pick compensation. Oftentimes it's the salary cap limitations that make teams shy about acquiring impactful talent. But the risk of swapping a Day 2 or Day 3 draft pick for immediate help has much higher upside for a playoff run than what could happen in several years.
We've identified 10 playmakers who should be dealt and the perfect team for each trade target. Some trades are more about bolstering a positional group and others could be the difference between missing the playoffs or being a real Super Bowl threat.
Let's dive in and break down the best players on the market and where they could land.
Marcus Maye to Carolina Panthers
The Panthers have already devoted a lot of assets to the secondary within the last two years. They drafted safety Jeremy Chinn in the second-round in the 2020 draft, then reinforced the group by acquiring Stephon Gilmore, Jaycee Horn, C.J. Henderson, and A.J. Bouye this year. Their defense is incredibly versatile and athletic all of a sudden.
There's one area where we could see an uptick in production and overall talent. Their strong safety position is manned by Sean Chandler now that Juston Burris is on injured reserve. Chandler is nice but not someone who does anything but make tackles. Adding a special talent like Marcus Maye adds a ton of value.
Maye is playing out his last season with the Jets after not receiving a contract extension. At 28, Maye is a quality coverage player who is more than comfortable in the box. Essentially, the Panthers would have two versatile safeties in their prime without long-term commitment.
This is the type of move that could solidify their standing in the Wild Card race. Of course, Maye is dealing with DUI charges from February, which could suppress his value and availability.
Marlon Mack to Buffalo Bills
There's no question the Colts and Marlon Mack are ready to go their separate ways after the back re-signed this past off-season. He's healthy enough to contribute to a contender after suffering a ruptured Achilles' Tendon last year. Thus far, he's rushed 20 times for 85 yards and six first downs.
Mack is an explosive back capable of handling RB1 duties. He's a slasher who gets upfield quickly and has excellent burst. With few teams needing an actual starter, a contender wanting depth and a home-run threat could nab him. The Bills immediately stand out.
Starter Devin Singletary has been better than last year but the team was hoping Zack Moss would take over the role. Moss has been more of a plodder and inefficient. Mack could eventually become a true compliment to Singletary if given the opportunity.