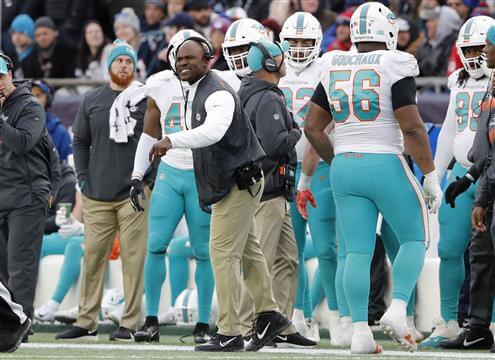 The NFL offseason is upon us and the start of the new league year (Mar. 18) is just around the corner. Several organizations are in strong financial standing as they approach the talent acquisition portion, which includes free agency and the 2020 NFL Draft. Here are the ten teams with the most projected salary cap space, according to OverTheCap.com. These numbers are based on a salary cap of $200 million, but that number could reach even higher.
Note: The salaries included in the article can be found on OvertheCap.com as well.
1. Miami Dolphins
Projected salary cap space: $89,390,424
Team needs: OT, QB, EDGE, iOL, CB, RB, LB, S, DL, TE
Miami has a laundry list of needs and a ton of salary cap room so they theoretically do not need to make any drastic changes. However, wide receiver Albert Wilson is scheduled to count $10,833,334 against the salary cap in 2020 if he is on the roster. If the team cuts him, it would cost roughly $1.3 million. They could save $9.5 million by parting with a player that had a good but not great season.
2. Indianapolis Colts
Projected salary cap space: $86,162,964
Team needs: OT, DL, EDGE, LB, WR, CB, QB, iOL, RB, S
Indianapolis could save $9 million by cutting veteran quarterback Jacoby Brissett but that seems unlikely at this stage. The team's pursuit of free agents and draft picks will provide some clues into their thought process but the draft will happen long after free agency. They could save an additional $4 million by releasing defensive lineman Margus Hunt. The focus of the offseason is more about acquiring talent than parting with it, however. One thing to keep in mind -- the Colts entered last offseason with a lot of salary cap space as well and they were not aggressive in free agency despite the expectation that Andrew Luck would be their starting quarterback. There is no guarantee they will change their approach this season.
The Colts should retain left tackle Anthony Castonzo. Otherwise, the team has zero pressing matters.